According to the American Civil Liberties Union (ACLU), the United States is a country of over 40 million immigrants. Many people–both immigrants and those born and raised in the country–are unaware of the rights that undocumented immigrants have in this nation. It's time to educate yourself and spread the word. Here we share the immigrant rights you need to know.
The U.S. Supreme Court ruled that, according to the Constitution, undocumented immigrants have the right to "freedom of speech and religion, the right to be treated fairly, the right to privacy, and the other fundamental rights U.S. citizens enjoy.
Those facing deportation are entitled to reasonable notice of charges, reasonable notice of a hearing's place and time, proof that grounds for deportation are valid, reasonable opportunity to examine the evidence, as well as the government's witnesses, representation by a lawyer, a hearing before an immigration judge and review (most often in a federal court), and access to a competent interpreter.
If you are an undocumented immigrant and ICE officials knock on your door, you do not have to answer it. Agents may dress as civilians, show up with a piece of paper that is supposed to be a warrant but isn't, or may even pretend to be searching for a sex offender–all efforts to make you open the door. Keep your doors and gate closed at all times. If you do open the door, ICE agents do not have the right to enter your residence without a valid warrant.
You have the right to ask for a warrant, and to have the agents slide said warrant under the door. You do not need to open the door to receive the warrant. The warrant must have the correct information on it: name, address, date, and search parameters. It must also be signed by a judge in order for an ICE agent to be able to enter your home. An administrative warrant of removal from immigration authorities is not sufficient to gain entry to your residence.
If you come across an ICE agent, you do not have to talk to him or her. You have the right to speak to a lawyer before saying anything, make a phone call to said lawyer and to tell an ICE agent that you will not say anything before doing so. Do not mention your name, country of origin, or immigration status, as this information may be used against you. If you are at home, no one there has to talk to agents either.
You have the right to not sign anything until you speak to a lawyer. You might be signing your rights away without knowing it. You also don't have to show any documents you have before speaking to a lawyer.
If you are taken into custody by ICE, you have the right to contact your country's consulate or have an officer notify your consulate of your arrest.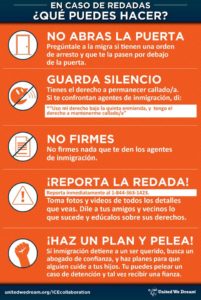 Now that you know these rights, share them!
To learn more about the movement to protect immigrants and their rights, you can visit:
American Civil Liberties Union (ACLU)
National Network for Immigrant and Refugee Rights
Immigrant Legal Resource Center
National Immigration Law Center (NILC)