The lack of diversity in TV and film, especially during awards season has been a hot topic of conversation for several years now. It received particular notoriety two years ago when #OscarsSoWhite (a hashtag started by activist April Reign) began trending on Twitter. There was outrage on social media over the Academy members decision to nominate an entire group of white actors while overlooking fantastic films, written, produced and starred by people of color (POC).
The issue of diversity during awards season does not go back two, or three years, it has been constant for decades now. Boone Isaacs, the Academy's current president, knew that the backlash of the past two years had to be addressed. After all, the problem is rooted with the members of the academy, mostly white, and mostly male (call it the White House of the entertainment world.) Boone was set to make changes, one that included bringing on board new members of diverse background as well as demoting individual members who have not been active in films in the past ten years. While there was a backlash to the change, it also brought a much needed fresh of e
yes to the voting process.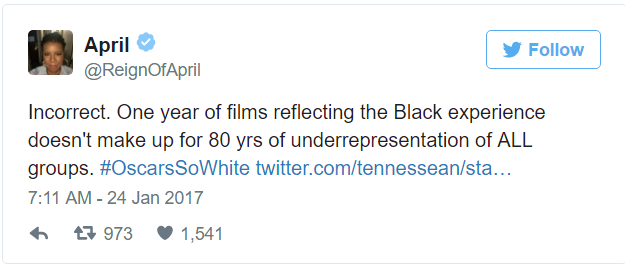 As of June of last year, the Academy welcomed six hundred and eighty-three new members. Some of the new member include; Gabrielle Union, Idris Elba, Ice Cube, Ryan Coogler, America Ferrera, and in the mix of this spectacular diversity, the Academy also included renowned Mexican actor Ignacio López Tarso, whose career spans over 50 films, theater productions, and Mexican novelas. He starred in the 1960's film Macario, which was the first Mexican film to be nominated for an Oscar for Best Foreign Film.
The addition of this diverse group of members reflected if only a bit in this year's nominations. Sure, La La Land with its nearly all-white cast dominates the categories, movies like Moonlight, Lion and Hidden Figures received nominations. Viola Davis, Octavia Spencer, Denzel Washington, Barry Jenkins, and up-and-coming Oakland native Mahershala Ali are also nominated.
While this is an impressive step in the right direction, there is still much work to be done to include Latinx actors. Sure, the Director and Cinematography category has been dominated by Mexican talent, with  Alejandro González Iñárritu and Emmanuel Lubezki winning back to back in 2013, 2014, and 2015. The same has not happened in other broad categories. A Latino has not been nominated for Best Actor since Demián Bichir's nomination for A Better Life in 2011. No Latina has ever won for Best Actress, and the last time a Latina was nominated was in 2004 when Colombian Catalina Sandino Moreno was nominated for Maria Full of Grace. The last time a Latino won for Best Supporting Actor was back in 2000 when Puerto Rican actor Benicio Del Toro took home the statue. It gets worse for Best Supporting Actress, the last time a Latina won was in 1962 when Rita Moreno won for West Side Story.
What can we hope for change? Well, it is time for casting directors to step up to the plate and look at the abundance of Latinx talent. Perhaps the casting of Diego Luna in Rogue One is the stepping stone needed to make changes and tackle the issue of the lack of 'Brown' representation at the Oscars. I want to see John Leguizamo nominated. I want for Gael García Bernal to be recognized for the outstanding career he has already achieved. Also, how about Karla Souza, Mia Maestro, Gina Rodriguez, Justina Machado, their talent limited to TV, and indie films unnoticed by the Academy. Above all, I would like for Sofia Vergara to realize that her talent goes beyond faking an accent and be the center of mockery, she can and deserves to do more, and be recognized for it.
In a few years, I want to see a list of nominees as diverse as the citizens of the country. A Mexican Best Actor, a Chinese Best Supporting Actor, a Colombian Best Actress, an Indian Best Supporting Actress, a Japanese Director. #OscarsSoWhite will prevail as a constant reminder that there is still much to be done for the Academy to reflect the ever-changing melting pot that is Hollywood.
89th Oscars LIVE SUNDAY FEB 26 7pm Pacific|4pm Eastern