The humanitarian crisis worsens in the Gaza Strip and violence escalates in the West Bank how it started and how Latinos were involved.
On October 7, the Palestinian armed organization of Hamas surprise attacked what is the bloodiest attack on Israeli civilians in history. The AP News reported more than 1,400 people were killed and about 200 hostages were taken to Gaza. The security breach was the most serious in Israel's history. The response, headed by Israel's Prime Minister Benjamin Netanyahu, was to begin an indiscriminate bombardment of Gaza that has already killed more than 10,000 Palestinians and left millions with no place to go.
Since Hamas' rise to power in 2007, Israel's Defense Forces (IDF) have maintained a land, air, and sea blockade on the Gaza Strip. Palestinians are restricted in their ability to move, as they need special permits from the Israeli government to leave Gaza, which are almost impossible to obtain.
Another exit point from Gaza is the Rafah crossing, which is under Egyptian control. Over the last few years, this crossing has remained closed. According to the Israeli human rights organization B'Teselem, the Egyptian authorities open it only a few days a year under a permit system as restrictive as the Israeli one.
Latinos in The Palestine-Israel Conflict
Although Latin America is far from the Israel-Palestine War, news came out quickly that many Latinxs and Latin-Americans were either visiting or living in Gaza or Israel. There is also a large history, diaspora of Palestinian, Israeli and Arabs in Latin America that are rooted and identity as Latin-American and Arabé.
The Peruvian twin nuns Maria del Pilar and Maria del Perpetuo Socorro Llerena Vargas, missionaries of the only Catholic Church in Gaza, assured that they will stay put with their faithful.
"We will not abandon our people," said sister María del Pilar in an interview conducted by the BBC.
Although the Peruvian Embassy in Egypt and the Embassy in Israel made the necessary arrangements to evacuate the nuns they came to that decision. The nuns have been living in Gaza for four years, and in the parish, they take care of more than 600 people, including disabled children and the elderly.
The Brazilian government is also taking steps for the repatriation of its citizens from Gaza. Brazil has a community of more than 70,000 Palestinians and their descendants, the most important after Chile. Chile has the biggest Palestinian diaspora reaching 600,000 people, surpassing countries such as Lebanon or Syria. The Palestinian Brazilians are the largest community (about 6,000) among the Latinos in the West Bank.
The Saudi Arab News published the story of Hassan Rabee, a businessman from Sao Paulo, who traveled to Gaza to visit his mother a month before the Hamas attack and has still not been able to return. Hassan describes how his wife's mental health has deteriorated and how fear invades his children. As a Brazilian citizen, he receives food from the Brazilian embassy in Egypt while he waits for the evacuation plan designed by Brazil to move its citizens from Khan Younis to Rafah to materialize.
"I hope I can take my mother with me," he told Arab News.
In addition to this testimony, there is that of Mexican actress Estefania Vega, who is currently in the West Bank. Estefania arrived in the Jenin refugee camp on October 2 to do an internship at the community theater "Freedom Theatre". For security reasons, she had to leave Jenin and settle in Wab Sik, a village near Ramallah. From there she collaborates with an NGO visiting the homes of Palestinians who have been attacked by settlers or military forces.
"Last week, a settler entered a village and shot a young man in the stomach. He wanted to shoot them all," Vega also told Arab News.
The actress claimed that, like many Palestinians, Latinos in Palestine are unwilling to leave their homes.
Credit: @atif.tv/Instagram by Atif Hashwi
Since the Hamas attack, different Latin American governments have activated a series of plans to repatriate their citizens living in Israel. Mexico repatriated a total of 720 people, including its national gymnastics team. Argentina launched the "Regreso Seguro" operation and most of the 1,200 family groups who requested it have already returned to their country in South America.
Gaza Strip: What Is It and Why Is It A Hot Spot?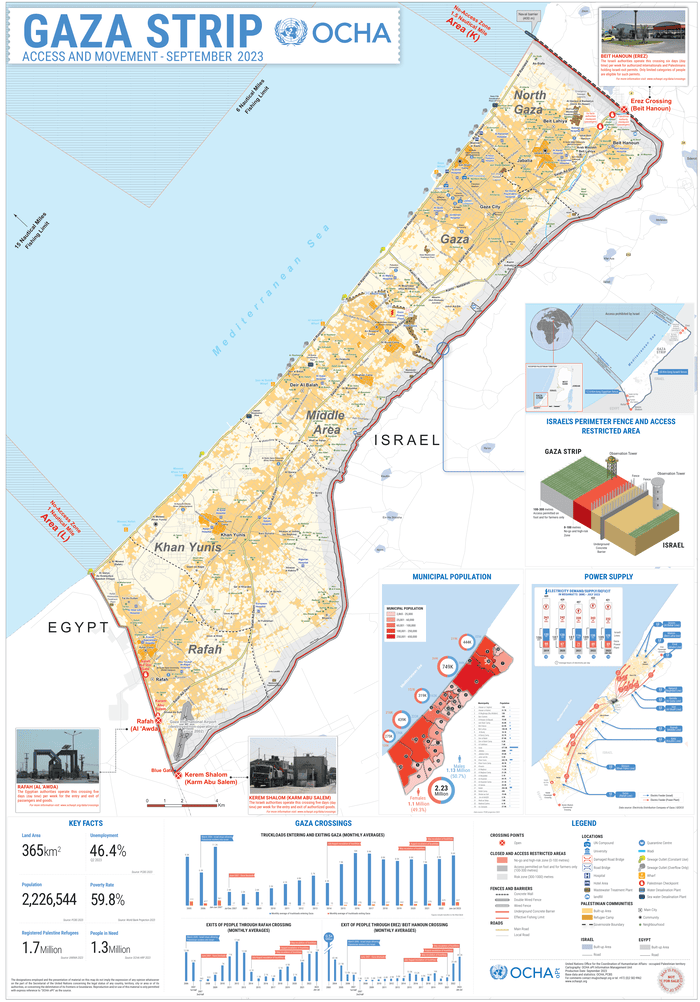 The Gaza Strip is one of the most densely populated territories in the world. with an extension of 41 km long and 10 km wide, Gaza's population is a total of more than 2.3 million Palestinians, most of them refugees. The Palestinian population suffered two major displacements in 1948 after the creation of the State of Israel, more than 800,000 Palestinians were forced to leave their homes in what is known as the Nakba (translates to "catastrophe" in English.)
After Israel's 1967 Six-Day War (in which they occupied Gaza, the West Bank, and East Jerusalem,) a series of clashes were triggered and continue to this day, leaving a deep mark on Gaza's history. That is why many Palestinians fear that if they are forced to leave Gaza and expelled to the Egyptian Sinai Peninsula, they will never be able to return to their homes.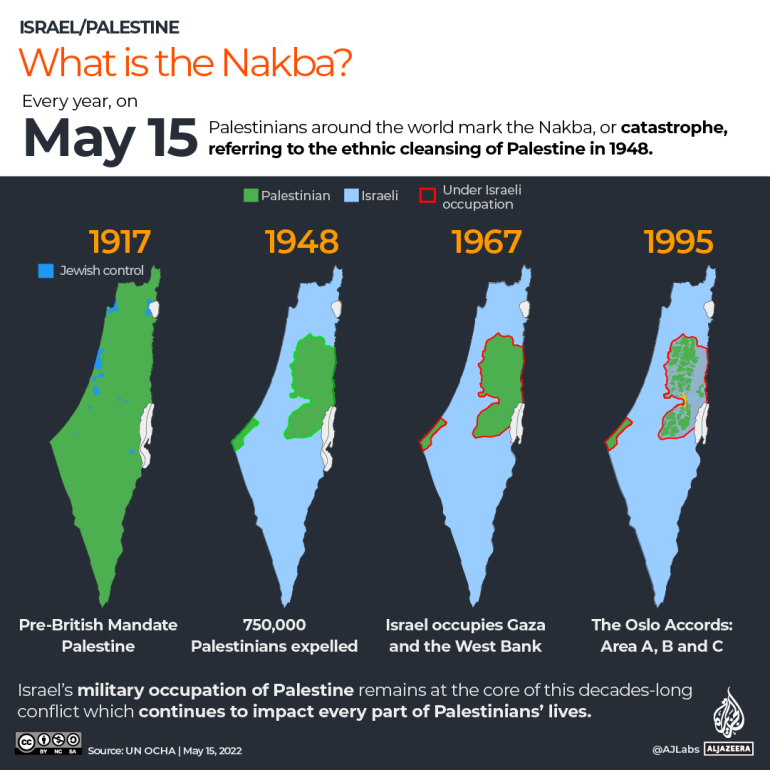 Halfway through last year, Human Rights Watch compared conditions in Gaza to "an open-air prison," referring to Israel's restriction of movement of Palestinians. The closure has devastated Gaza's economy, contributed to the fragmentation of the Palestinian people, and is part of the Israeli authorities' crimes against humanity, including apartheid and the persecution of millions of Palestinians.
In 2020, the United Nations (U.N.) Special Rapporteur for Palestine presented a report in which he pointed out that the blockade of Gaza by Israel's Defense Forces is a collective punishment and violates a fundamental rule of the modern legal system:
"Only the guilty can be punished for their acts, and only after a fair process. The innocent can never be made to be punished for the deeds of others," said the Special Rapporteur to the U.N.'s Office of the High Commissioner for Human Rights (OHCHR).
Gaza's News: The Persistence of The Blockage
Israel's argument for sustaining the blockade is that it gives it control of Gaza's borders to protect Israeli citizens from Hamas attacks. The U.N., various human rights groups, and legal experts consider that Gaza is still under military occupation by Israel. The entry of humanitarian aid is one of the main problems in this Israel-Palestine war.
"Civil order is beginning to break down," claimed the United Nations Relief and Works Agency for Palestine Refugees in the Near East (UNRWA).
This global entity warned that thousands of residents stormed U.N.-run distribution centers in search of food and personal hygiene items. Lack of fuel and power outages preventing connectivity is also a problem for the arrival and distribution of humanitarian aid.
Tension Rises in The West Bank
The spiral of violence is not only limited to Gaza, but also extends to the West Bank. Since October 7, 132 Palestinians have been killed and more than 1,600 have been injured. Settlers who embrace religious ultranationalism are calling for attacks on Palestinian villages and neighborhoods in revenge for the massacre carried out by Hamas. The West Bank is home to three million Palestinians and some 500,000 Israeli settlers, and the entire territory is a pressure cooker ready to explode. Before the current historically violent Israel-Palestine war had a new violent chapter in Gaza, Palestinian society and human rights organizations were already concerned about the possibility of escalating clashes in the West Bank.
The year 2022 saw a record number of Palestinians killed since the second Intifada (the Palestinian uprising that began in 2000 and lasted five years). That year Israeli forces increased military incursions with excessive use of force, including unlawful killings and alleged extrajudicial executions. According to a report by the U.N. Office for the Coordination of Humanitarian Affairs in the Occupied Palestinian Territories (OCHA-OPT), the number of Palestinians killed reached 151 in the occupied West Bank, including East Jerusalem, and 9,875 people were injured.
Hamas: What Is It?
Hamas―an Arabic acronym for "Islamic Resistance Movement"―was founded in 1987 by Sheikh Ahmed Yasin in the heat of the first Intifada, a Palestinian uprising against Israeli military occupation in the West Bank and Gaza.
Since its inception, Hamas has used suicide bombings and the kidnapping of Israeli soldiers. It is considered a terrorist group by European Union countries and the United States.
What's to Come?
For the moment, the U.S. and Israel rejected the request for an immediate ceasefire in Gaza made jointly by several Arab countries and echoed by demonstrations all around the world. But the U.S. did defend the exercise of occasional humanitarian pauses—which Israel still does not accept—to allow the entry of humanitarian aid for the civilian population of Gaza.
As many Latinxs and world citizens have asked in this already convoluted era marked by ecological disasters, pandemics, and social disparity what can be done or how can they help. Organizations like the ones below have teams and committees on the ground in Gaza receiving and transporting medical aid and food for civilians displaced and injured in Palestine such as:
Palestinian Children's Relief Fund (PCRF) based in the U.S. and Palestine were established in 1992.
Doctors Without Borders (aka Médecins Sans Frontières MSF) established since 1989.
Palestine Red Crescent Society (PRCS) which is based in Palestine and Israel, started in 1968 and is recognized and partnered with the International Committee of the Red Cross since 2006.
Como miembros del mundo deseamos a todos los Latinos, Latinas y Latinxs en esta zona del mundo que se mantengan seguros.
BoldLatina Editorial Update/Correction: As many understand, war is an ongoing and fluid situation with data and numbers changing faster than we can keep up for the day of publication. New numbers show the death toll in Israel lessened from 1,400 as we had originally reported to 1,200 as reported by the spokesperson Lior Haiat of Israel's Foreign Ministry and later the BBC. Also we originally reported 132 Palestinians have been killed in the West Bank since October 7th as of a few hours ago we've learned different reports between 147 to 197 killed. Palestinian Authority's health ministry reported to the AP nearly 200 Palestinians killed in the West Bank and Aljazeera reported 197 Palestinians have been killed including 48 children. Meanwhile the United Nations Relief and Works Agency for Palestinian Refugees in the Near East or UNRWA has unrevised numbers tolled at 147 Palestinians, including 44 children from Nov. 7th. Numbers and data are constantly changing and coming. Stay updated with Boldlatina for the latest.