Los Angeles Declares November 3rd 'Selena Day'
It's been  22 years since Selena's passing yet every year her legendary status – La Reina's legacy is upped a level. Last year, MAC Cosmetics launched MAC Selena and Madame Tussaud's Hollywood museum unveiled a commemorative 'Selena' wax figure. This year, a brass star honoring Selena Quintanilla is being made possible. Anything for Selenas, you know! As soon as the Hollywood Walk of Fame Star news broke out last year, the Latinx community as always has been anticipating this day.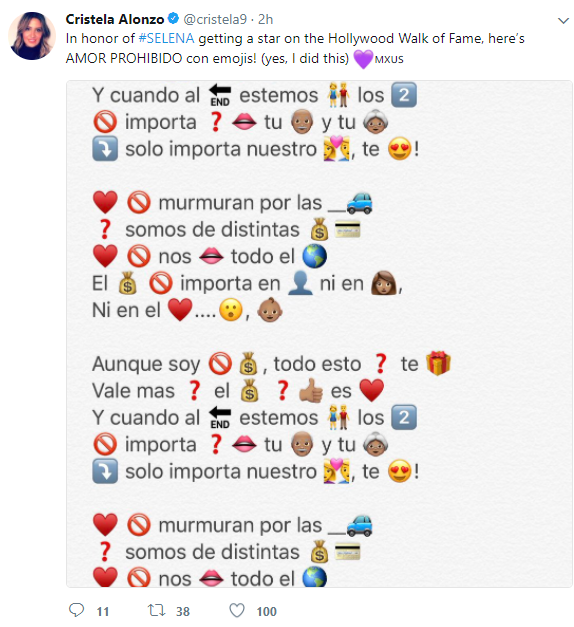 Not only is Selena's 'star' a significant marker of her everlasting legacy and Grammy award winning talent, but in a time when Hollywood struggles for diversity, inclusion and recognition of Latinos in entertainment, from big screen to stage to Hollywood Walk of Fame status – this is significant needle moving stuff! Other Latinas who have come before Selena Quintanilla include Shakira, Christina Aguilera, Cameron Diaz, Rita Hayworth, Carmen Miranda, Katy Jurado, Penelope Cruz, Rita Moreno, Dolores Del Rio, Raquel Welch, Lupe Velez, Christina Saralegui, Celia Cruz, Gloria Estefan, Thalia and oh yeah,  JLO. Did we miss a Latina? 
Most recently, Suzette was part of Talks at Google as a charming animated singing cartoon Google Doodle that took more than two years to make launched on October 17, 2017 honoring Selena's first studio album release, Selena.

Selena's sister Suzette Quintanilla-Ariaga has been busy preparing her late sister's star and making sure everything goes perfect. Again, anything for Selenas…
The Quintanilla family still feels pain, but it's celebratory moments like today that bring them joy and relief that Selena will always be with them. Suzette opened up  in a '20 years later' 2015 interview.
HAPPY SELENA DAY!
November 3rd is not only a #TexicanHoliday as Tejana, Cristela Alonzo tweeted today; Mayor of Los Angeles Eric Garcetti  officially declared it 'Selena Day' T-O-D-A-Y, we look forward to future possible celebrations on this day!
TONIGHT at 6:30pm, show up and represent at the front of Capital Records Tower, Master of Ceremonies will be Eva Longoria, actress, philanthropist and advocate for Latinas everywhere.
You know there will be plenty of BoldLatina sisters with tears of pride there!
Looking to keep the celebration going? Club 90s is hosting Selena Night DTLA on November 4th at The Regent.