My mother raised me to never take my education for granted. She immigrated here from Mexico, and despite the language barrier, she helped me with my homework and school projects in any way that she could. When my parents got me my first computer, my mom would buy dozens of educational computer games so I could learn more English, science, and math. She fed my love of reading by making sure we had plenty of books in our home—everything from novels to dictionaries. As I've gotten older, I've realized that was her way of making sure I'd never lose that hunger to constantly learn new things. She's why I've been able to make many of my dreams become a reality—through hard work, passion, and determination.
But as great as these accomplishments felt and as proud as I was making my family, it would all have come a little easier…
All the values my mom instilled in me ultimately led me to pursue higher education. As I went from grade school to high school and community college, I began to really let it sink in that I would be the "first in my family" to do just that. I'd be the first to leave the nest and move to a different city for school; I'd be the first to study abroad and move to a completely different country for months; I'd be the first to work for big companies. I'd be the first to achieve all these milestones, but I certainly wouldn't be the last: my younger siblings were looking to me to set the blueprint and create educational and career pathways.
But as great as these accomplishments felt and as proud as I was making my family, it would all have come a little easier with the help of organizations like Forté. Forté is a non-profit powered by an alliance of talented women, universities, and corporations. This organization supports over 6,000 young women working on their undergraduate degree attend career prep programs annually; they have empowered over 100,000 women to rise up in business and other related fields; they've invested $180M in Forté fellowships awarded to female MBA students. Lastly, Forté has increased enrollment at their partner MBA schools by 10% since 2001.
I enrolled at a local community college after high school and after two years, I transferred to the University of California, Santa Cruz (UCSC). I I was doing what many Latinx families find unthinkable—I was moving to a whole new city on my own. When I arrived at UCSC, I wasn't prepared. There was no handbook for how a first-generation student should navigate these formative years. I often felt proud of the fact that I had the courage to move away to a new city. But I also felt scared, homesick, and overwhelmed because I was surrounded by so many different people—some who seemed to have had their life figured out, and others who had probably had another family member teach them the ropes. I made sure to surround myself with folks from similar backgrounds so we could cheer each other on. I also made sure to seek out the necessary resources such as attending office hours with college professors to interning at the college resource center. I needed to get the best of my education at UCSC and make it across that stage. When graduation day came along, I couldn't even imagine the rest of "firsts" that life had prepared for me: I would later be the first in my family to pack up and study abroad in Europe for three months, the first to be a published writer, and the first to work at a magazine. This would only be the beginning.
I believe in the power

Forté

has to mobilize and empower future generations of Latinas…
Navigating all those firsts would've been easier if I'd known about all the resources available for a young woman and Latina, like me. Resources that could have helped me navigate the college experience, post-grad world, and job hunt much better. I could've used advice, help to handle stress, and a network of Latina professionals navigating similar issues. That's why Forté is the perfect example of a great resource for Latinas like me in industries that haven't historically been ready for us and our ambitions. Plus, joining Forté is free—perfect for budget-conscious women at the start of their careers.
As a Latina, as a writer, and as a professional in the media industry, Forté is an organization that aligns with my personal and professional values. My work is guided by the unwavering support and respect I have for my mother, my family and the rest of the immigrants in this country who immigrated to this country for better opportunities and for a better life. I'm also driven to empower other first-generation kids that are on the way to achieving their ultimate goals. As a Mexican-Honduran woman who has had to navigate her fair share of predominantly white institutions that are not made for brown and black folks, I do my best to highlight those communities. Ultimately, I hope to advocate for other Latinas navigating the higher education system or the workplace and make sure they're equipped with the necessary tools and resources to rise above and being their best selves to their work. That's why I believe in the power Forté has to mobilize and empower future generations of Latinas so there can be more "firsts" and no longer "onlys."
---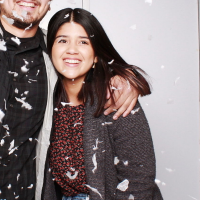 Pamela Avila is a freelancer writer based in Los Angeles. She's been published in Los Angeles magazine, Fierce by We Are Mitú, LAist, HelloGiggles, and others. You can find her on Twitter