Self-identifying Latinx make up less than 7% of the technology workforce at large technology corporations like Google, Facebook, Twitter, to name a few. That is a diversity stat, we have to change. The diversity and inclusion conversation has made its way to the surface across mainstream America and we, at BoldLatina are happy that the needle is moving. Change is coming, and we sat down to chat with Latinas in technology Faby Zuñiga and Gina Elizabeth Moreno both talented Latinas employed at global technology giant , Microsoft.  Faviola 'Faby' and Gina provide us insights, and share their 'why' with their personal and professional journeys so far on helping to build a cultures of inclusivity and diversity for Latinx and other people of color.
"You Belong"
Last week, our founder/CEO of BoldLatina, Michelle Olvera was invited to Microsoft's Latinx Heritage Month virtual event, to share her journey with Microsoft Latinx recruits. Michelle not only shared her journey as a founder of BoldLatina.com but also as a Latina working at innovative startups, early stage technology companies throughout her career. 
"During the early years, at the heart of innovation Silicon Valley/San Francisco, I could not get a job in my own backyard growing up around these same technology companies and despite my earned years of operational experience…." says the native-born San Franciscan of Mexican/Bolivian heritage. Many of the Silicon Valley companies created hiring structures that made it difficult to get a foot in the door unless you knew someone, and usually that someone didn't look like you. 'White boy brogrammer networks' were plentiful at many early companies, but what it did was create a homogenous workforce excluding women, minority-majority BIPOC communities despite that there was no talent shortfall, simply 'access' to the opportunities to become employed in tech.
Black and brown communities are trendsetters and have been over indexing on social media since inception and are early and native consumers of technologies, it's great we are consumers, but we must be innovators and developers of technology too. Michelle pointed out that, "'bad tech' exists when BIPOC are not part of the product development and solving problems for us too."
For Michelle, the barriers early in her tech career were significant and gentrification that took place in San Francisco has lead to zero to low wealth creation in our Black and brown communities. Though Michelle gained from being an early IPO employee, it came with sacrifice and not easy as there were other issues like toxic work cultures and fighting to not be invisible, as a Latinas in technology typically endure. 
What came out of the event was the importance of authenticity despite the feelings of imposter syndrome, which can be the nagging feeling that you don't belong and you don't actually deserve your accomplishments and your job. 
Combat Imposter Syndrome
Michelle suggested ways to combat imposter syndrome:
1. Own your journey, Your path may be non-linear and that is okay.
2. Stop comparing yourself. You feel undervalued and less than. Stop that.
3. Talk to yourself. Create inner dialogue and talk to your 'inner critic'. Retrain that "critic" to be a "champion" instead.
4. Gain self-worth. You are more than your mistakes.
And…
5. Be Authentic. Show up as yourself. Being yourself allows others to appreciate you. When you hinder your Latinidad – you don't bring your whole self. Instead you see cultural traits as a hindrance – you are not serving nobody.
Being Latinas in Technology
Gina Elizabeth Moreno, a first generation college graduate and first generation in the US from El Paso, TX. Gina holds a B.S. in Industrial Engineering and a M.S. in systems engineering shared  that being a Latina in tech means, " I don't get to see a lot of people that look like me, this is a part of the reason why I am so passionate about bringing misrepresented communities to STEM.  I want to bring visibility and access to these fields because I don't believe we should leave all that power in the table. Together, we have the unique opportunity to shape the society we live in. Getting here was not easy, but it is also not where I am going to stop. My path here has allowed me to continuously keep learning about myself, grow and become resilient. I started with few role models and little guidance, to now being the one who create environments that are inclusive to everyone. 
On a personal note, I've learned that I bring value to this world because of my unique life experiences and I am practicing using my voice, because we are all worth learning from. My biggest pride has been to be intentional for what I want and going after it, so I will never let other people/society determine who I am or my success. I am proud multi-faced bold Latina who loves math and science, business, loves to dance, dress like a queen, travel and listen to Bad bunny while at it." Here at BoldLatina, we discovered Gina is also a talented content creator who has partnered with Tiktok (@ginamore_)!
We asked Faby Zuñiga on her experience working at a global technology company like Microsoft, "As a first-generation Latina, a non-negotiable I've had for potential employers has been to have a clear stance on advocacy for Latinx talent & immigration rights. Microsoft's head of legal affairs, Brad Smith, is one of the most unapologetic and active allies of DACA recipients & Latinx employees; his executive involvements with the border schools in Texas were the main reason why I've stayed with Microsoft. Today, I'm proud to say that I've grown in ways I never thought imaginable thanks to this corporation's investment in our Latinx community."
"Why I am in Tech"
It is undeniably that Latinas in technology feel a responsibility and mission to bring in the next generation of tech workers. Michelle loves innovation and said, "being able to be on the ground floor working at startups helping to build the next 'big thing' is exciting! It's a long journey, but it is fulfilling! For me, if I can mentor, champion other techie Latinx into the same spaces I am, I will. We have to send that elevator right back down and bring it back up with more BIPOC/Latinx."
Gina shared, "I had experiences in the aerospace & automotive sectors, but the higher mission of those businesses did not resonate with my journey. I pursued tech because I believed it was a place where I could create the biggest impact with limitless potential of reach in the world. Change the way people approached problems, make connections with others and maybe even the way they see the world. The mission is to EMPOWER people to achieve more, and that was what really resonated with me and my personal mission."
On her journey to become a program manager at Microsoft, Gina has gained a big mission of bringing misrepresented communities to every table. Taking a big step in practicing using her voice she gave TedX talk about one of her passions, "Empowering Latina Women in STEM & Leadership".
Faby was born and raised in sunny Los Angeles & daughter of first-generation Mexican immigrants. Faby studied Business, Entrepreneurship and Organizations at Brown University, where she graduated in 2017 and joined Microsoft shortly after as an HR Manager for their Cloud & Artificial Intelligence organization.  She then joined recruiting in 2018, where now she has been living a career founded in giving back to underrepresented & first-generation students by supporting Microsoft's Hispanic Serving Institutions hiring hub.  For Faby, plain and simple, she just wants to give back to the Latinx community and its through her career she finds that fulfillment. When Faby is not working or traveling, loving on taco trucks, beach trips, muscle cars, she joked she is usually overdosed on iced coffee, walking her two doggies, or trying to improve her COVID-19 home gym. Stay healthy, Bold Latinas!
There Is A Place For Everyone In Technology
It is a myth that you have to become a 'coder', you can definitely strive for this top-earning career path though. Other desired skill sets are needed in the tech industry include marketing, design, business development and customer service – all transferable skill sets from industry to industry. So how does one get started to join one of these fabulous technology companies, be part of an early stage and/or established technologies companies? We recently highlighted Latina founders and Latinas in the gaming industry who found their way into technology. 
Faby stated, "Through our Hispanic & Latinx employee resource group, formal mentorship circles & leadership summits, I've been developed to become our first ever Hispanic Serving Institutions recruiter. I now lead the charge in our Texas, SoCal, Florida & Puerto Rico technical hiring for underrepresented talent and am proud to say that my career is a living example to Microsoft's commitment to our community. This is the time for all Latinx-identified individuals interested in pursuing a career in tech to answer their call to action; now more than ever, Microsoft is committed to increasing Black & Brown representation in technology. Will you answer your call to action?
BoldLatina's Michelle Olvera says that  "Black and brown communities need to be innovators, become the technologists employed at technology companies, where the highest-paid wages are now, and real wealth can be built. There is a job for everyone at these startups and established technology companies. You can come in today, with no degree and amazing coding skills and training or you can graduate with a marketing/communications degree and help a tech product reach users/consumers! The sky is the limit today!"
There is no question after learning from Michelle, Faby and Gina that we, Latinas are the present and the future in the technology space!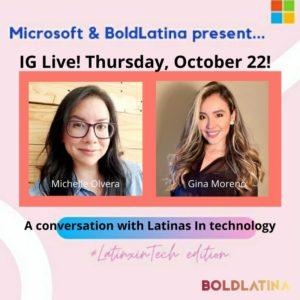 So if you are a Latina seeking a career in tech or already in tech, join us Thursday, October 22 for an IG Live event at 4:30pm PST/6:30pm CST/7:30pm EST for a

BoldLatina x Microsoft

'Latinas in Tech' edition.