For San Jacinto artist Barbara Rivera, painting has become a form of liberation and a form in which she can speak up about issues that are currently affecting her community.
Born to immigrant parents, she takes inspiration from both her father and mother's cultures. Her father is a refugee from Cuba and her mother like many, immigrated to the United States from Mexico.
The proud Cuban-Mexican American artist is completely self-taught and began her painting career 10 years ago. But getting to be a full-time painter was not a fast journey, it wasn't until she quit her job as a full-time secretary at San Jacinto High School and until her three children went off to college that she was able to really focus on her art.
"I was finally able to really enjoy doing what I like doing which is painting all the beauty that is in our culture," said Rivera.
To say that Rivera's main themes for her paintings involve different aspects of her culture is an understatement. Almost every painting you see of hers is filled with bright colors.
"It is culture, that is my inspiration, we have the most amazing culture and I feel like I've been chosen to represent it through my paintings," Rivera said.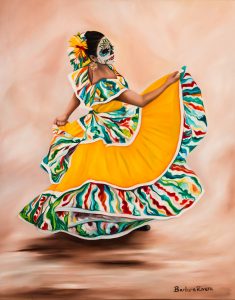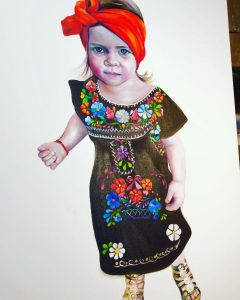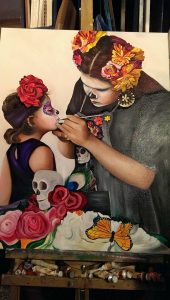 Photo Courtesy of: Barbara Rivera
Rivera finds most of her inspirations at local events and takes pictures of mariachi performers and some of her favorite muses are folklorico dancers.
"I love to capture the colors and the dress and the movement there is so much life, our people are amazing," said Rivera.
To Rivera, incorporating her culture into her paintings is extremely important, as she wants people to focus on the beauty, not the negative opinions that are often placed on the Latino community.
But after a string of comments and decisions made by the Trump Administration, she was overcome with emotion and decided to create a new series of paintings. The bright colorful paintings she normally painted were put on pause.
Summer Camp
It was April of this year when the Trump Administration launched a "zero tolerance" policy that contributed to the separation of children from their parents. Reports and stories about these families and children were everywhere.
Rivera was among the many that came across an article detailing what kids were doing while detained, like having to mop in the detention centers. As she scrolled through the comments, she stopped to read one comment that infuriated her. The comment read "It's like summer camp for these kids."
"I was like what the hell, then you send your kids to that summer camp, that is not a summer camp, having to be covered in those solar blankets, in cages," she said.
The comment along with continuous news coverage of the separations inspired her to create her first political paintings. She named one particular painting "Summer Camp" explaining that this has been a hard summer for her people.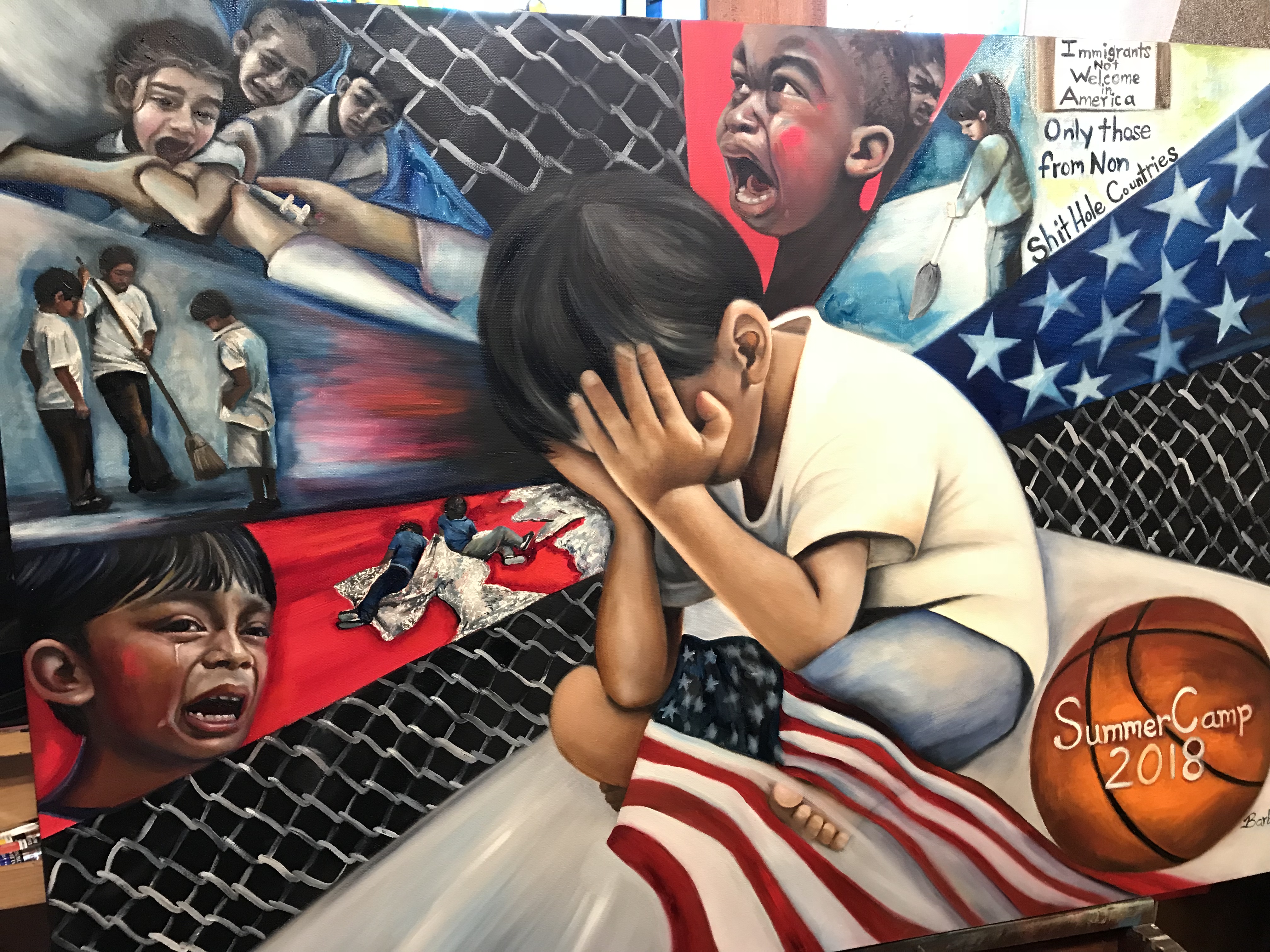 The painting which shows a combination of children in different scenes is her way of opening peoples eyes to the reality that "this" is far from a summer camp.
"I wanted to some how capture the emotions, and suffrage of our people and its not only Mexicans its people coming from South and Central America too," Rivera said.
The painting perfectly captures everything she has heard and seen in the news since the separations occurred. In the top left corner you see a young girl crying and being forcefully injected as two other children watch in horror. This was inspired by an article she read from The New York Times in which specific details about injecting children to "sedate" them was released.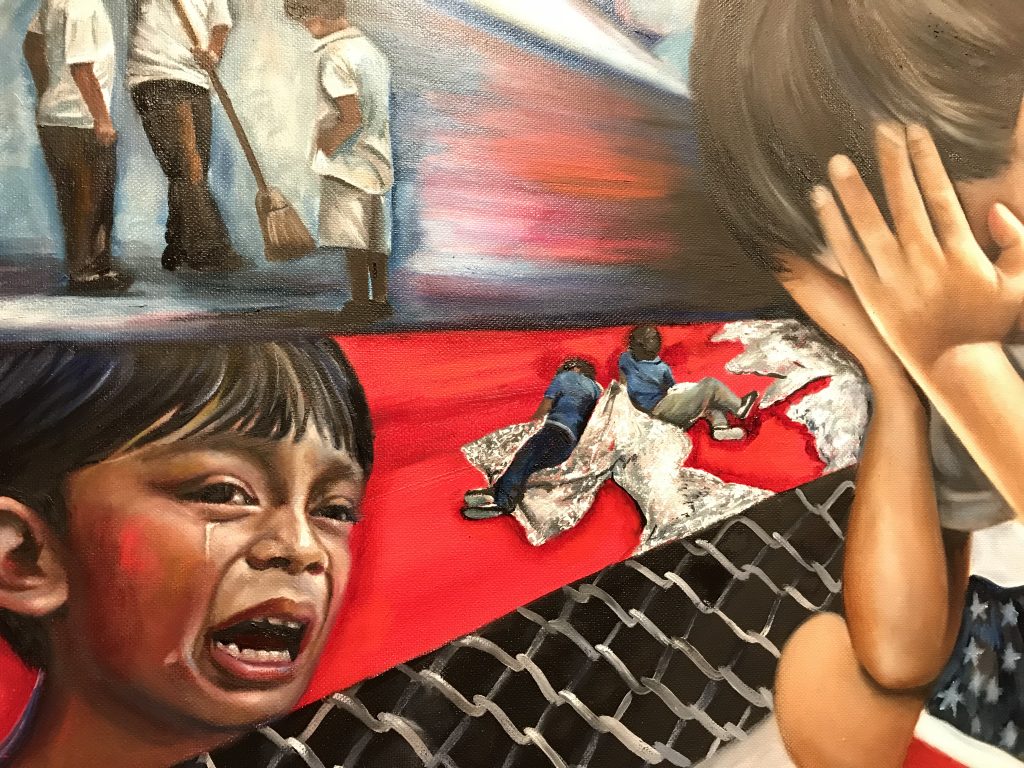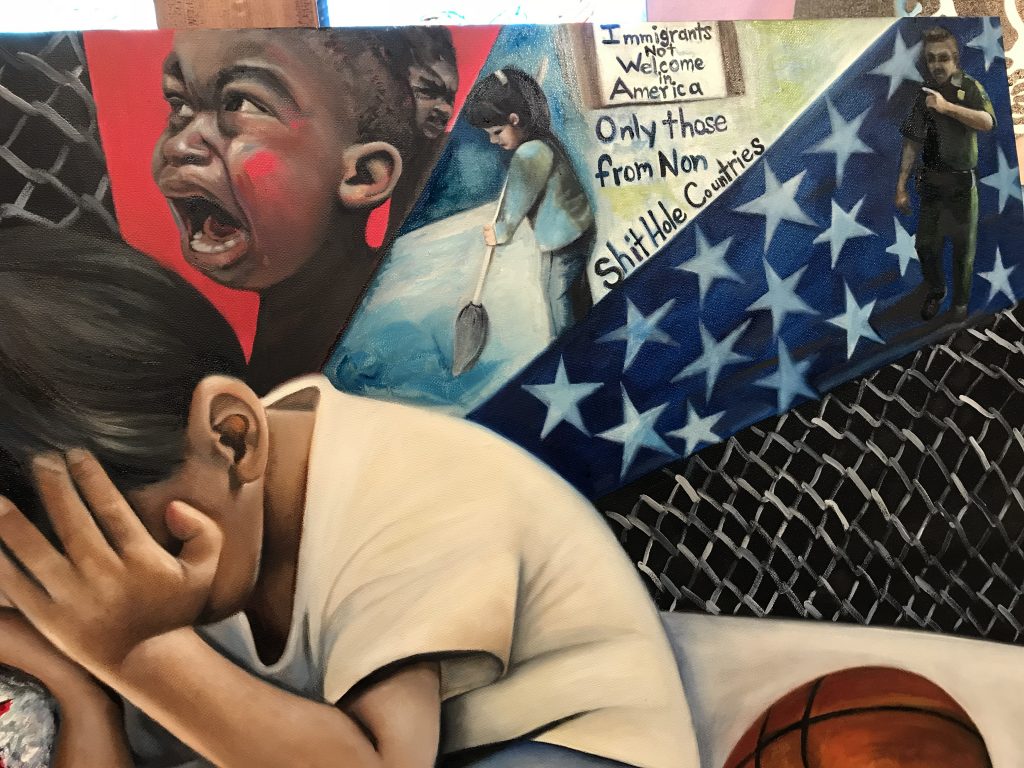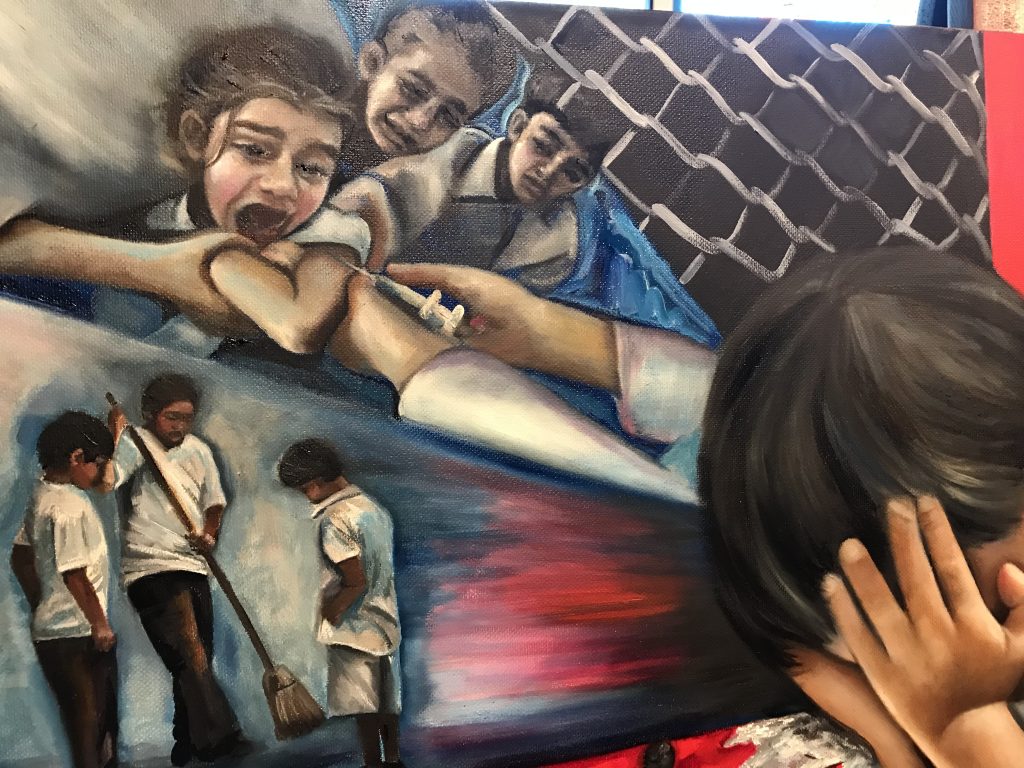 "Summer Camp" 2018 a painting by Barbara Rivera. (Photo by: Janette Villafana)
Esperanza
Rivera continued working on more paintings and another one of her political paintings was of a little girl with a very raw emotion on her face. The young girl is wearing an American flag dress and is holding a little Mexican flag on one hand.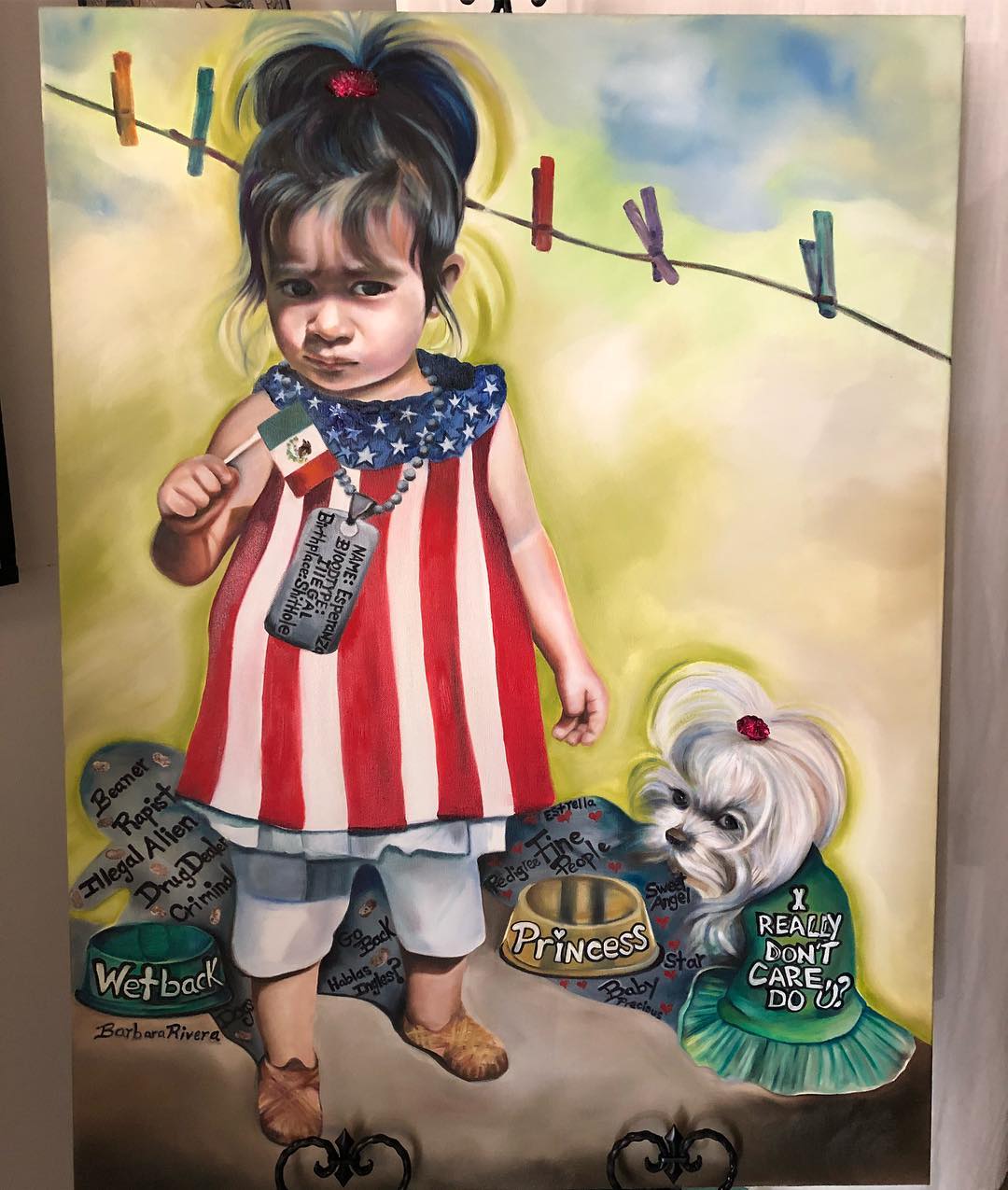 "Esperanza" as she named the painting and the little girl, was inspired by a few things, Rivera was inspired by the visitation of Melania Trump to the children detention center. As many remember she was wearing what some called an inappropriate coat that read "I  Really Don't Care, Do You?" when Rivera saw this unfold in front of her she knew she had to include it in her painting somehow.
"I was crying while I painted this one, these are my first political pieces, I normally like to focus on the beauty of our culture not on the sad things that we are living. But I had to create them," Rivera said.
She went on to explain the rest of the painting in which the little girl "Esperanza" is standing  with the words "illegal alien" and "Drug Dealers" spread across her shadow. While on the other side there is a dog with the words "baby" and "fine people"run across the dogs shadow. These are supposed to represent how some people will give their pets love and respect but won't give humans seeking asylum any respect.
"I think its time to empower our people and I am so happy that I am able to do that with my paintings. I will continue to do it everyday till I die."
Latinx artists are creating our reality – read more The AfroLatina Artist Who Painted God As A Black Woman