When it comes to winning prestigious awards from Nobel Prizes to Pulitzers, it's no surprise that white men have been the recipients of major recognition by astute cultural institutions that define excellence. It's been down in history, mostly white men deciding in boardrooms with decorated portraits of white men, giving other white men recognition and awards. All too often, women –  especially Latinx, Black, Women of Color have historically been invisible as cultural contributors and as a result, overlooked for consideration when it came time to recognize outstanding artistic contributions and literary excellence to society.
Well, times are changin'! The prestigious Carnegie Medal is an annual British literary award that recognizes one outstanding new English language book for children or young adults. Back in 2016, the organizers and decision-makers of the Carnegie Medal were called out by an independent investigation, for the lack of diversity and inclusion. Since then, structural changes have been made.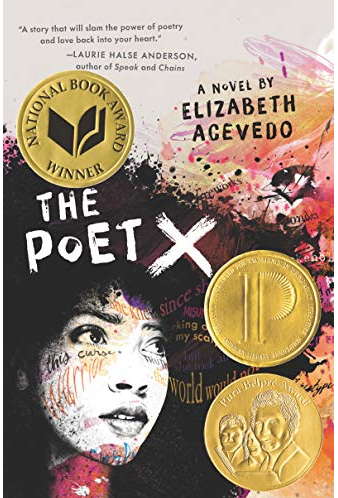 In its 83-year history, the 2019 Carnegie Medal goes to a notable American author – a woman of color, Elizabeth Acevedo. Acevedo, a former eighth-grade teacher, will not only be the first woman of color writer, but the first writer of color and to note, first Afro-Latina writer/author.
Acevedo's 'The Poet X' is a young adult book that is no stranger to recognition. The Poet X has received favorable editorial, reader reviews, and other accolades. The overall award list for her novels includes 2018 National Book Award for Young People's Literature, the Globe-Horn Award for Best Fiction of 2018,  2018 Pura Belpré Award – we can't keep track!
You can purchase 'The Poet X' on Amazon
The New York Time's Bestselling author, Acevedo brought her Dominican-American upbringing,  slam poet finesse, and Harlem as a backdrop to create 'The Poet X'.  'Xiomara Batista' is 'The Poet X', a teen girl who finds self-expression through the power of poetry. A truly remarkable coming-of-age story of a young Latina. A story we don't see told too often. A story that is worth telling with or without the 'Carnegie Medals' of the world.