Every year, when the Miss Universe pageant rolls around, I ask myself if I'm going to watch it (this year's event was on Sunday, May 16). Being Colombian, South American, and just being Latina, Miss Universe has always been a source of pride. We would watch each year as a family, whether it was in person, or making phone calls to other states to discuss how everyone looked.
And that is the problem. Miss Universe, although it has come a long way, and stresses more the importance of intelligence, kindness, and doing good in the world, is mainly about looks. To be more specific, Anglo looks that fit into a specific box. Winners and runners up are usually tall and thin, with long hair and thin noses. For longer than anyone wants to admit, they were also always white.
Showcasing women from around the world shows viewers that beauty comes in many different colors, looks, and body shapes. But, way too often, countries will make their representatives conform to what is seen as "Miss Universe material." This means skin bleaching in countries like the Philippines and India, choosing contestants who are light-complected and/or half-white (like former Miss Universe, half-Filipina, half-Australian Catriona Gray), and plastic surgery (we're looking at you, Venezuela).
Miss India contestants. They all have the same hair, and the SAME SKIN COLOUR, and I'm going to hazard a guess that their heights and vital stats will also be similar. So much for India being a 'diverse' country. pic.twitter.com/L4yXG0WvRu

— labellagorda (@labellagorda) May 27, 2019
And the plastic surgery isn't limited to just the face; many contestants sported obvious breast implants, in order to achieve that desired look of being super thin, but also with ample boobs. Instead of celebrating different bodies, we see a sea of the same. However, there were exceptions, including the gorgeous Miss Australia Maria Thatill, who slayed the show standing 5'3" tall (she made it into the top 10). Being Indian-Australian, she also represented her country's diversity–after all, Australian women aren't all blonde haired and blue eyed.
Ver esta publicación en Instagram
Okay, I know that anyone from any background can also represent a certain country, so I love seeing the diversity, and know that not everything is cookie cutter when it comes to nationality. So, let's continue with another thing that makes me cringe when watching Miss Universe–having women parade around in bathing suits while literally being judged.
How is this healthy for women?! Answer: it's not. It's not great for the women in the pageant, who have to strut around in bikinis and heels (this year, there was the addition of a sheer duster), and definitely not good for the scores of women who are at home watching and no doubt comparing themselves to these models. It's also outdated, and sexist. Thankfully, this year, all the judges were all women, because what's worse than having men check you out, while judging your appearance in front of millions of people at the same time? But, as we all already know, women can be catty with each other; you can't help but become criticona, becoming a judge yourself when watching Miss Universe.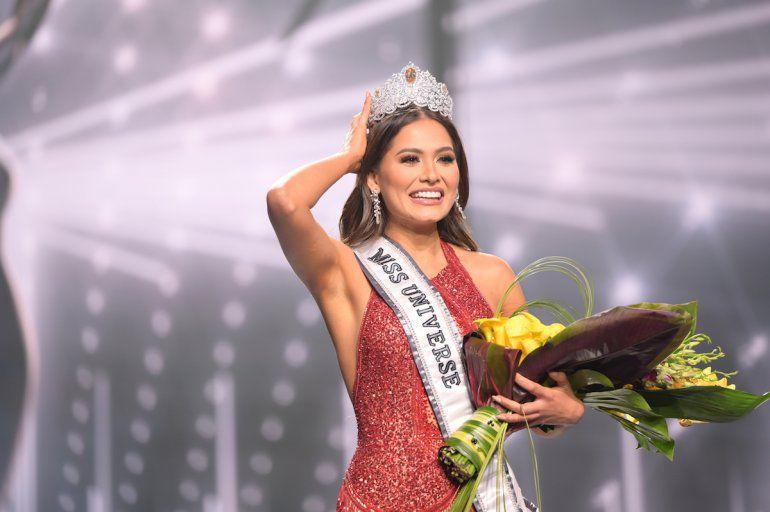 Under all the heavy makeup, plastic surgery, fake tans, choreographed dances, sexy struts, and wide smiles, Miss Universe did some things right. There were clips where representatives had conversations on the pressures to get plastic surgery, beauty standards, sexual and physical abuse, and speaking to their younger selves. And that is beautiful. My Titi suggested that the contestants sporting no makeup for a segment, instead of a swimsuit round, would place the focus on natural beauty. Maybe if we keep modernizing pageants in ways like this, it won't feel so old-school and like a guilty pleasure. But, probably not enough–beauty pageants are still beauty pageants.
---
Help Power Up Our Work. Sign up for our 'BoldLatina News' or Become A 'BoldLatina Collective' Member Invest In Our Latina Newsroom + Future.
---
So, you can see where my loyalty to tradition, national pride, and loving celebrating Latinx (and worldwide) beauty clashes with my modernism, feminism, and want of celebrating what matters (what's inside). They just don't go together. But, I can't help but watch. I can't help but feel bummed that Miss Colombia Laura Olascuaga didn't make it into the top 5 (we always do!), feel happy that four out of the five finalists were Latina (and that Miss Mexico won). So, I watched the 69th annual Miss Universe pageant. But maybe I won't watch the 70th.