Netflix has been on the forefront of original programming for some years now, and it is no surprise that the media giant is set to spend six billion dollars in original programming this year alone. It is also known for the diverse programming with series like Orange Is The New Black, Narcos, Club De Cuervos, Master Of None, and now The Get Down, whose first half of season one premiered on August 12th.
The Get Down

takes us on a musical adventure to the South Bronx in the 1970s, an era where disco music reigned supreme, and hip-hop music was making its grand entrance.
Image Credit: Netflix/Giphy
The series was created by Baz Luhrmann, Australian director known for Romeo + Juliet, Moulin Rouge, and The Great Gasby among others. It seemed strange to me that a white male would direct a show surrounding the lives of people of color. Let's be honest, how could a white man from Australia truly know anything about the hip-hop movement and the struggles that people of color faced during that era (and in the 80's, 90's, heck even today.) I can think of a long list of Black film directors who could have developed this great series. Ava DuVernay, Antoine Fuquia, Paris Barclay, Spike Lee, heck even Denzel Washington himself.
What made me rethink my decision to continue watching past the first episode was the young, yet extremely talented cast, and the fact that Nas is one of the executive producers.
The Get Down delves into the life of Ezekiel "Zeke" Figuero, a smart and raw talented teenage lyricist from the Bronx who is dealing with the internal pain of being an orphan, his love for Mylene his childhood crush, and the desire to succeed while not forgetting his roots. "Mylene, Mylene, my butterscotch queen, will you be my girl, and I'll be your king."
We also meet Mylene Cruz, a beautiful Puerto Rican teenager who dreams of being a "disco star" but has to deal not only with her rigid and religious father, but also her deep desire to leave the Bronx, while using Zeke's love and talent for her personal gain. (puppy love, we have all been there.)
Shaolin Fantastic is a street-smart young man, who hangs with the wrong crowd in order to make ends meet. He uses the dirty money he makes to pursue his love of DJing. He is mentored by Grandmaster Flash, THE DJ MASTER – pioneer of the quick-mix theory, scratching and punch phrasing; hip-hop was a term created by Cowboy of the Grandmaster Flash and the Furious Five.  Let's just say that you'll never look at a crayon or a vinyl the same way again after you finish watching the first half of the series.
An honorable casting mention goes to Daveed Diggs, yes, THE DAVEED DIGGS, a prodigy son of the city of Oakland and Tony and Grammy award winner for his portrayal of Thomas Jefferson and Marquis de Lafayette in Hamilton. Daveed plays older Zeke, who is seen in the intro of every episode, and also serves as narrator of the story in the voice of Nas.
The story revolves around these central characters, their love of music, their love for The Bronx, and the trials and tribulations of what so many people of color endured during that era.
For many of us who were not raised in the 70's, it is  hard to fathom what that community went through during that area. Even the term "The Bronx is burning" is unfamiliar to many of us, if it weren't for what we have read or seen in photos. The Get Down incorporated old TV footage to make the series more real, and while the first episode was a bit too theatrical and felt like a 70's version of West Side Story, the episodes that follow and the development of the characters and the story itself made it difficult not to binge watch it.
What makes this series special, at least for many of us Blacks and Browns who grew up in neighborhoods like the South Bronx, is just how relatable the show truly is. We all have experienced unrequited love like Zeke did with Mylene. We all have tried to act cool in front of friends, even sabotaging our potential to better ourselves, and hung out with the wrong crowd to make some quick cash. We've had that one mentor while growing up who helped us see our true potential and helped us realize that anything is possible: "You Have Wings, Learn To Fly" (as you'll see in episode 5.)
But the most special quality of the show is how music proved not only therapeutic but was, in a way, the salvation road for the characters, and even ourselves.
Sadly, we will have to wait until early 2017 to watch the second half of the first season, a first for a Netflix original, but, believe me when I tell you that it is worth the wait (and even a second binge watch.)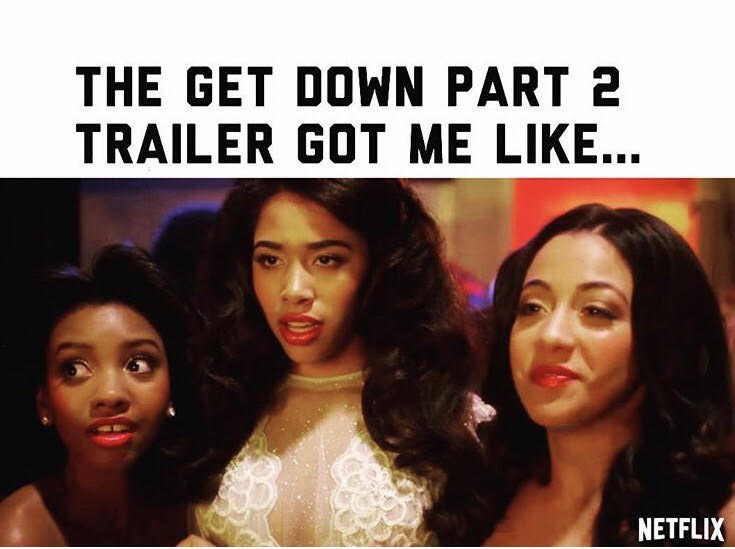 Have You Watched The Get Down? Share Below!