Diversity in TV and movies, and in award ceremonies, this is the quintessential issue that gains constant attention whenever a new TV show or movie is released.
Do they reflect the ever-changing spectrum of communities across the United States?
During awards season is when it is most noticeable that there is lots of ground to cover when it comes to diversity on the main TV networks. To this day, Sofia Vergara, and Gina Rodriguez remain the two familiar Latina faces on TV. Just recently Jennifer Lopez' television show Shades of Blue got picked up for a second season. Karla Souza has been rising to fame thanks to her role as Laurel Castillo on How To Get Away With Murder. Souza currently has five films she has starred streaming on Netflix; ¿Qué Culpa Tiene el Niño?, Instructions Not Included, Me Late Chocolate, Suave Patria, and From Prada To Nada.

Speaking of Netflix, the Silicon Valley entertainment giant has taken note of the void in TV networks, and the lack of representation by POC, stepping up to the plate by creating original programming with a diverse cast. Sure, Orange is The New Black is by far one of their biggest hits, and at the time of its release, it was also a significant risk. Not only was the premise of the show risqué, but the cast was made up entirely of mostly unknown Latina actresses. The risk paid off, and Orange Is The New Black continues to be one of Netflix's highly coveted shows.

Let us take a look at some other original programming featuring a diverse cast:

Narcos – the show is already in its second season, Brazilian actor Wagner Moura, and Chilean actor Pedro Pascal are two of the stars of the series. Let us hope that there is a third season, and perhaps it will revolve around the "Cartel de Cali."

The Get Down – you guys already know how much we love the series. Narrated by none other than Oakland native, Daveed Diggs. The second half of season one is scheduled to be released sometime this year.

Luke Cage – if you are a Marvel Comics fan, I am pretty sure you already binge-watched the entire season 1. Mike Colter stars as Luke Cage.

Master of None – the lack of diversity within the Indian community is unprecedented, and thanks to Aziz Ansari and Alan Young, we have this genius series to watch. I am patiently waiting for season two.

One Day At A Time – this show premiered in early January, starring Rita Moreno, the RITA MORENO! The show follows the tribulations of a Cuban-American family. The show also stars Justina Machado (who most recently participated in the show Queen of The South.) Linda Nieves-Powell, New York writer, director, filmmaker and photographer of the Latina Icons project had this to say on her Facebook: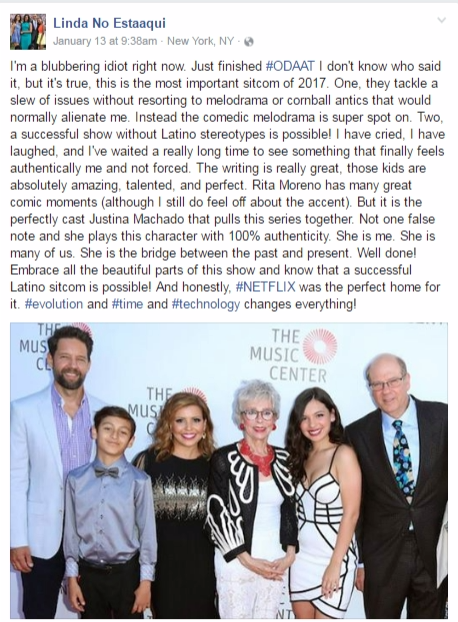 Club De Cuervos – this Mexican series will have you hooked! (I am talking to you sports fans.) The story revolves around a brother and sister fighting over the control of a soccer team empire. While this series is in Spanish, it is worth watching (English subtitles are available.)
Marias – Faith in Womanhood – a notable documentary category on what the Virgin Mary means to women throughout Latin America.

Besides these outstanding series, there are also several stand-up comedy specials worth binge-watching:
Russell Peters: Notorious
Aziz Ansari: Buried Alive
Aziz Ansari: Live at Madison Square Garden
Chris Tucker: Chris Tucker Live
Anjelah Johnson: Not Fancy
Mike Epps: Don't Take it Personal
Ricardo O'Farrill: Abrazo Genial
Hannibal Buress: Comedy Camisado
Ali Wong: Baby Cobra
Sofia Niño de Rivera: Exposed
Cedric the Entertainer: Live from the Ville
Russell Peters: Almost Famous
Michael Che: Matters
Reggie Watts: Spatial    
Gabriel Iglesias: I'm Sorry For What I Said When I Was Hungry
Trevor Noah: Afraid of the Dark
However, the stand-up comedy special that I am most excited about is Cristela Alonzo's Lower Classy. Her show Cristela on ABC was canceled after just one season (major TV networks are simply clueless when it comes to quality shows starring people of color.) Netflix knew the talent behind this Tejana, and hopefully, this stand-up show will lead to the development of more programming created or directed by her.
Netflix continues to stay relevant with its original programming; it is indeed changing the way audiences watch shows and movies. Let us hope that they keep this momentum going, and continue creating quality programming. We have to see a more diverse representation on our TV screens, and most certainly during awards season.