In recent years, we're seeing more women dominate the sports world. From Serena Williams (who can arguably be the best athlete in the world) to Ronda Rousey, Chloe Kim and Naomi Osaka. And the list is nowhere nearly being done with women holding executive spots in the Olympics, FIFA and other organizational committees for teams around the world as well as sports media and broadcasters. It seems like the sports world won't have a choice, women are dominating. Another male prevalent space in sports that is starting to see more women in NASCAR. And NASCAR is all here for it.
Well-known racing star Danica Patrick made a departure earlier this year from NASCAR, the company has since recognized the impact Patrick made in the racing world, in marketing partnerships, and in pop culture. To date, Patrick is the most successful woman in the history of open-wheel racing. The executives at NASCAR are aware you can't deny that and are rallying behind some soon to be winning racers- that tend to be women. NASCAR executives are keeping a close eye on Natalie Decker who is a 21-year-old stock car racer.
In 2016, she joined her cousins, Paige Decker, and Claire Decker in attempting to make the field for the Alpha Energy Solutions 250 but placing at 38, did not make the field. This last week, 17-year-old Hailie Deegan made history by the first female to earn a pole award in the NASCAR K&N Pro Series. A 'pole award' is an award given to the fastest qualifier in each NASCAR national series points-paying race that is under 21.
"I went to mechanical engineering school because I wanted to be an astronaut, but I fell in love with cars in the process," Colon tells NASCAR NEWS
Then there's inclusivity for women of color (WOC). Last year, Alba Colon won the Hispanic Heritage Foundation STEM award. The Latina mechanical engineer and leader in the sport has been praised for her fierceness on and off the tracks and she has been one of NASCAR's more influential  leaders operating as Chevrolet Racing Program Manager for the Monster Energy NASCAR Cup Series. Colon was born in Spain and raised in Puerto Rico and has consistently seen her role as a woman of color in NASCAR important off the track as on the track. Aside from being an inspiration for women and Latinas, she is aware her impact goes beyond racing. About it, she says "It's about understanding the audience we are trying to approach. As an example, let's look at the car-buying experience. Many women have a great deal of influence in a family's purchase of a vehicle. So, NASCAR needs to do more things that are female-friendly."
Alongside Alba Colon is Milka Duno who is NASCAR's first Latina driver. The Venezuelan race car driver is best known for holding the record of highest finish for a female driver in the 24 hours of Daytona which is just as it sounds, a 24-hour sports car race. Milka also became the first Venezuelan athlete to be inducted into the Latin American International Sports Hall of Fame in 2010. Behind the wheel or outside of the racing car, WOC are becoming a strong part of NASCAR's longevity and success. Brehanna Daniels is the first African-American female pit crew member and was the first African American female tire changer in the Monster Energy NASCAR Cup Series. Earlier this year, Daniels made history alongside Breanna O'Leary by becoming the first two women have performed over-the-wall pit crew duties together for the same team in the same race.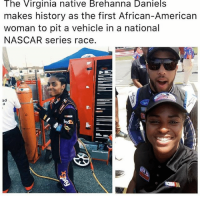 While women are making strides, there is a lot of work that needs to be done on NASCAR's end to welcome not only more women but diversity overall. NASCAR's efforts for diversity include their Drive for Diversity program which recruits minorities and women for pet crew positions and driving positions. Since its initiation in 2004, it has only recruited 23 women drivers. However, some question whether or not their push for diversity is to reach a larger audience. First, ratings for the sport seem to plummet even though the NASCAR's events are broadcasted in over 185 countries and in over 21 languages. Despite those efforts to reach more and more fans, the average age of TV viewers is 58 years old. What's more, 91 percent of the company's fans are White. While NASCAR execs say racing is not a dying sport, the reality of it is they will need younger faces and more diversity to push stock car auto racing to millennials.
The Drive for Diversity program is making slow strides, 12 out of 25 female graduates of the pit crew diversity program have gone on to work in NASCAR for at least three years. But only two female graduates, Megan Reitenour and Macy Causey, out of 23 have recorded wins.
The efforts to reach a diverse audience is becoming more apparent and the notion to speed up diversity and inclusivity is there. With more POC and WOC being noticed within the sport, NASCAR is creating a healthy and much needed cultural shift in the racing world. Not only is this how they target a younger, more open-minded audience of millennials (a long way from their predominantly middle age white male demographic) but they uphold the responsibility of accurate representation for a variety of races, genders, and cultures as well.
As a part-time driver in the ARCA series, Leilani Munter said "It's really not a question of if a female driver is going to win in ARCA and in top levels of NASCAR. It's a question of when. It's happening. The world is changing. I feel like there's a lot of woman power going around the world right now, and that's extending into the racing garage as well."