"Siri, how do I get home?"
"You need a loan?"
"No. Home."
"Cones? There are no cones within the area, Pay-o-la"
"HOME."
"Sorry, I do not understand."
"Forget it."
"Love you too, Pay-o-la"
Aside from the fact that Siri can only understand 'Murican, she (or whatever pronoun Siri identifies with) isn't the only one who has had trouble deciphering my speech. Over the years, however, my accent has degenerated, along with the memories attached to them. Only a residue of what once was my native tongue still coats my own.
Along with the deterioration of my name, essentially my identity — everything else that's cradled me since day one — began to lose its accent as well.
My name is Paola, like "pahh" and then "hola". Not Pay-o-la, not Paula, not Pie-o-la (my all time favorite) —  just, Paola. My last name is Muñoz, not Moo-no-oz or M-Uno — just, Muñoz. During my prime, I would always include "the squiggly," known as a diacritical tilde, on top of the "n" for my last name. Matter of fact, it was my Zorro (or Hancock, if you will). It defined my signature, or whatever a signature is supposed to look like for a five year old. In the Spanish language, the nasally consonant "ñ" is pronounced as "en-ye." It is its own letter within its alphabet.
The following year, I was chosen to announce the Pledge of Allegiance. Because my first grade home room teacher would always address me as "Pay-o-la," the cringe-inducing humiliation that once used to mark that foreign name, barely phased me. Matter of fact, it became me. "Good morning, my name is Payola Muñoz, and I will be saying the Pledge of Allegiance." Dang, I'm nice — I memorized the whole thing, reciting it without a second's hesitation. I even threw in a little shout-out for my class. As I walked myself back to the classroom, my art teacher marched up to me, anger glazed clearly across her dark eyes, cheeks as crimson as the lipstick she wore. With two small hands locked onto her large hips, she kneeled down to my level and said, "Paola! Tu conoces quien eres, no? Pues di, 'Paola', con mucha confianza! Jamas hagas eso. Tu eres Paola." In other words, "Paola! You know who you are, right? So say, 'Paola,' with a lot of confidence! Don't ever do that again. You are Paola."
What's her deal?
Standardized exams made it so that writing a tilde on my last name might invalidate my exam scores — misinterpreting the tilde as a stray mark. What a pesky tilde, I thought. Maybe I just don't need it. Losing pride in my Dominican heritage made it so that removing the tilde from my last name could, perhaps, make not only my name more American, but make me more American as well. Not to disclose my entire government name on the Internet, but the middle name given to me by my parents is really "American." I was fed up with Siri mispronouncing my name for the 100th time, I was tired of being Dominican like everybody else and their mothers on my block and I was so done being Latina if it meant having bestowed upon the same fate that has plagued my family for generations — poverty. I pushed down the tilde from its mighty throne, and stuck in my middle name instead. Call me Pay-o-la (insert English middle name) Munoz.
Along with the deterioration of my name, essentially my identity — everything else that's cradled me since day one — began to lose its accent as well. The more that cancer took out of Mami, the less I saw of her. The less I saw of her, the less we talked. The less we talked, the more I began to forget. She was no longer "Mami." Just, Mom. She lost her accent all together and she lost herself. She could no longer speak.
When she was taken out of the equation altogether, so was my speech. I had nothing more to say.
Visiting the Dominican Republic that summer wasn't the same, and it never will be. How could I have a story, when I couldn't even communicate it to my familia anymore? How could I possibly speak, when I had no one to speak to?
New Years were silent, and birthdays were forgotten. My younger sister was left just as baffled, too. We spoke amongst ourselves now, in the language that has rendered us speechless: English.
---
---
The great paradox: Through this foreign language, the one that calls me 'Payola', the one that has humiliated my family — "go back to your country" they would say — the one that has housed my father's perpetual lack of income, making us incapable of sustaining our mother, through this very same language, I have found myself. I began to write, when words would fail me, and when I wrote, I found power in myself — power in being able to represent myself as the person that I truly am; I am not quiet. Because through paper, I could speak.
Now that I can speak, I've found Spanish, waiting for me right where I left her. She's different now, but still as beautiful as I remember. My hair is a tangled frizzy mess, and my English is stained. And if I could ever find my art teacher again, I would march right on up to her, hold both of her hands, look her square in the eyes and tell her: "Yo soy Paola Muñoz." I am Paola Muñoz.
---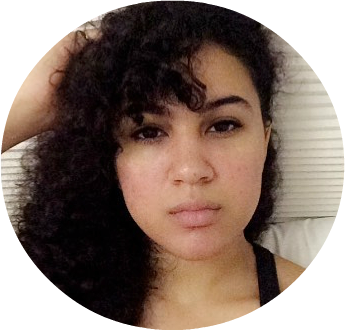 Paola is a feminista luchadora for intersectional social justice within academic spaces, hija de la Dominican Diáspora, and first-generation South Bronx native. She is currently a senior majoring in Human Development, and minoring in English, Inequality Studies, Latinx Studies, and Education at Cornell University. She is also the President of the First Generation Student Union, Head Delegate for the Cornell Latinx Ivy League Delegation, as well as a Ronald E. McNair Research Scholar. On the side, she likes bochinchando, sipping on hot café, as the co-host of Cafecito con Chisme: Latinx Podcast, as well as creating virtual spaces for folks of color across campuses as the Senior Editor and Facebook Social Media Manager for Oblivion Magazine. You can catch me facilitating for the Intergroup Dialogue Project, and raising hell like my ancestors have taught me to do so. Siempre malcriada y luchadora. Another Essay From Paola