Since the #MeToo movement and Time Magazine's Person of the Year 2017 issue featuring the "silence breakers", the public has seen multitude of women step forward into the public eye to bravely tell their personal stories and have their voices heard.
Such is the case for hotel workers who have broken their silence in the long fight for safety in the workplace in Long Beach, California. The safety the women are looking for comes in the form of a button. What the women want is simple, a life saving device known as a panic button, the device would alert security in a matter of seconds. The buttons would protect them from possible sexual assaults, and uncomfortable situations that happen all too often in the hotel industry.
In 2016 Unite Here Local 1, in Chicago published a survey called "Hands Off Pants On", the survey revealed that around 58% of hotel workers experienced unwanted and inappropriate behavior from guests. The survey encouraged cities like Chicago and Seattle to take action, now both cities have laws requiring panic buttons for hotel workers.
And although a proposal similar to the one in Chicago was shut down by Long Beach city council members last year, it hasn't slowed down the efforts of hotel workers, organizers and the community determined to continue to make a change.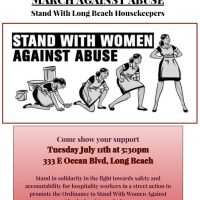 Although that change didn't come easy, the efforts of women like Nereyda Soto, 25, who is currently a hotel worker and a hotel rights advocate in Long Beach, are the type of women that are at the forefront of this battle. Soto is one of many organizers who have been outspoken about the importance of these buttons among other work related safety issues in Long Beach.
After being stalked by a hotel guest for 5 consecutive days, Soto, then a server and busser for the Hyatt Regency Hotel restaurant in Downtown Long Beach, decided that it was time to make a change.
The incident took place on what seemed like a normal day at work for Soto, until she noticed almost instantly that a particular guest had taken a strange and perverse interest in her.
"He came everyday from beginning to close and he insisted that I be his server," Soto said. "I was fairly new and I didn't want to cause problems so I just let it go and tried to stay away as much as possible."
But even as she attempted to stay away from the guest, he would find an excuse to lure her back to his table. The guest began by making odd requests, like ordering food or condiments that he would not touch or eat. Whenever Soto approached his table he would attempt to ask her inappropriate questions.
"At one point he asked me if I was happy in my marriage, he asked me a lot of very personal questions that to me crossed the line," said Soto.
Not mentioning a word to her management in fear of getting fired so soon after getting hired, Soto continued to serve the guest.
But on the guest's last day at the hotel, Soto approached him to grab his check not realizing the man decided to make one last request, in between his check was his room key. As she reached to return the key to him, the man explained that the key was for her, telling Soto that she would "look good" without her uniform and that the room key was intended for her to go up to his room, she was shocked.
"These men, they are drunk and they have money and they literally treat you like you are an amenity that comes with the hotel, they treat you like property," said Soto.
Ever since her uncomfortable interaction she became more involved with the Long Beach hotel workers union, she felt compelled to be an advocate for hotel workers.
"All I could think about was man, if this guy was brave enough to do this when the restaurant is full and my coworkers are around, imagine what a man like this would do to my coworkers (housekeepers) who are actually in a room by themselves," said Soto.
According to Soto, hotel workers have been given "safety" devices in the past, the devices were intended to make loud beeping noises when pressed. But when she and a coworker tested the beeping devices, the loud noise couldn't be heard outside the room, implying that security would have no way of hearing it. That is why providing reliable panic buttons that would automatically alert security would be more beneficial.
Community organizers like Marlene Montañez who has worked closely with  Long Beach Coalition for Good Jobs and Healthy Communities is one of the organizer who has taken part in the collection of  46,000 signatures in hopes of getting the hotel workers initiative into the November ballot.
Montañez hopes that the hard work of the community and hotel workers sparks interest in more people who may not know about the issues hotel workers face on a day to day basis.
"There's no turning back, once people understand what sexual harassment and abuse towards women is, you can't turn around from it you can't just shut it off." said Montañez.
In the meantime, the long fight to safety for hotel workers is far from over but this year on August 7th, Long Beach City Council voted to place an initiative that will protect hotel workers by providing them with panic buttons. The initiative will be on the ballot in November, where Long Beach residents will be able to vote on the issue and have a chance to make real change happen.