Over the years, the response to social justice and equity for Black, Latinx, Indigenous and other people of color had heightened in the United States. This era  of change and reorganization presents all social justice activists with a unique challenges but it must not solely be on their shoulders to promote social justice and advocacy for human rights. Everyone can learn about social issues young and old, but embedding our next generation with learning on social issues is key for a better world. Enter the importance of storytelling in our communities and a Latina author like Leticia Hernández-Linares, who becomes so crucial to the ecosystem of social racial justice.
Leticia Hernández-Linares (she, her, ella) is an award winning, bilingual, interdisciplinary writer, artist, and racial justice educator. The first in her Salvadoran immigrant family to be born in the U.S. and obtain university degrees, she is the author of Mucha Muchacha, Too Much Girl & Alejandria Fights Back! ¡La lucha de Alejandria!. She has worked in public schools, universities, the arts, and nonprofit organizations for thirty years. She teaches in the College of Ethnic Studies at San Francisco State University, and is currently an Artist in Residence at Yerba Buena Center for the Arts. Leticia has lived, taught, created, and protested in the Mission District, on the same block, since 1995. Her biggest honor and most important job is raising her two artivist sons.
BoldLatina: What sparked your passion for poetry, performing, writing, etc? How are you empowering the POC in the Mission District of San Francisco?
Leticia: I grew up around movement music-Nueva Canción, Chicano rock and stories about the power, and therefore danger, of being an artist in 1970's El Salvador. As a kid, I watched my father perform in bands, and I sang with him sometimes. Later, I got involved in theater until the quick and rude awakening about how limited my experience would be. My encounters in my college theater department helped me realize I needed to write the stories––discovering writers like Gloria Anzaldúa and Alice Walker showed me I could and should unpack my cuentos. I spent most of the '90's searching for and connecting with other Central American diasporic artists. So there are many layers to the need and importance of contando los cuentos, contando con los cuentos, because to tell is to count. At first it came natural to perform my poetry, but I also needed to see myself on the page. For a long time, the idea of who Central Americans are has been limited and controlled by white folx. We are beginning to change that, and speak for ourselves.
I have lived in the Mission since 1995. There is something very powerful on this block and in this community for me. Over the years, I taught art and creative writing; mentored young folx; worked in schools, supported various organizations like Galería de la Raza; watched young people grow into amazing artivists. I have incorporated youth and my own sons in my work, and created various projects that have offered young folx a platform, such as https://daraluz.net/ The ongoing issues of displacement, gentrification, and violence, as well as Salvadoran diasporic experiences, are themes and threads in my work. I am committed to my interdisciplinary craft, & to the teachings of Audre Lorde, that "poetry is not a luxury," and Roque Dalton's vision "que la poesía es como el pan… para todos," para todes.
BoldLatina: What experiences have you faced as a Latina author? How have you fought to have your voice heard?
Leticia: I have chosen to submit my work where I feel it will be seen and welcome. Now that doesn't necessarily mean I only submit to places where I assume I will be accepted, because it is a competitive process. I just need to know what the project, journal, or press I am being vulnerable to is about. When I started publishing, I bought a copy of The Poetry Market, which provided guidance on how to select places to send your work. It would give you info like if a place was BIWOC friendly, among many other things. Now that there are so many more of us publishing, this raises the question, what does that mean, right? Well, for me, it was helpful to find good fits for style, content, and values.
Also, the conversation about what it means to be a Latina, Latinx writer has been ongoing, and there are a whole lot of feelings around it. Many of us, understand there is not only one answer, and still reserve the right to identify ourselves as Latinx writers (and we can still be focused on our craft and becoming strong, innovative writers–it isn't mutually exclusive). I am a Latina writer. I am a Salvi poet, y punto. That doesn't mean that I am not a good writer. And if folks do not want to talk about their identity related to their writing that is fine too. Let's make room for all of our experiences and choices.
It is still a bit of a roller coaster to be a bilingual writer. I have struggled with how bilingual my work is. I was very intentional that I would not provide a glossary for Spanish in my poetry book. There was too much of it, and in my view, it wasn't a Spanish lesson.
I respect that BIPOC writers have entered into elitist spaces and infiltrated and excelled and begun to make change. Because of that work, I have more opportunity and access to those places as well.
BoldLatina: What is your writing / creative process when creating poetry, speeches, or literature? What tips can you provide to other aspiring authors?
Leticia: I draw on a alot of different forms of inspiration. Music is key. Poems are often sound before they are words on paper. My poems are stringed together lines I keep in my tons of journals and on papelitos. I also do best when I write while I travel (you can imagine how hard that is right now). Tips? Read and read and go to art shows and listen to new music, take it all in, and develop a practice, a ritual for writing.
BoldLatina: What work of literature are you most proud of & Why?
Leticia: You can't ask me to choose between all my literary babies, it's too hard! Right now, I am going to say The Wandering Song anthology. Throughout my literary career, I have worked to find, connect, and amplify the voices of Central American diasporic artists and writers. Leading this project, and working with literary heroes, Rubén Martínez and Héctor Tobar, with the support of Tía Chucha Press and Luis J. Rodríguez, represented many full circles for me. And to showcase all that incredible work by so many talented writers––well it was an honor to be part of that.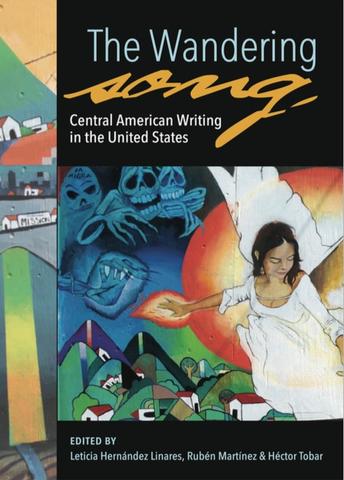 BoldLatina: What was an early experience where you learned that language had power?
Leticia: All my life I have fought with people on how to say my name. It was seriously a thing. As a person who spoke Spanish first, I was simply confused by Letisha, Leteesha, Letizia. I didn't answer to that. My insistence,from a young age, that people pronounce my name the way my mother said it (Le-tee-cya), became a problem, made me seem to those who refused to see and hear me, aggressive and uncooperative. I was and am unwilling to translate myself. It was an early lesson on how challenging it would be to refuse to choose one language as my first. I have two first languages. I am bilingual.
BoldLatina: What message did you intend to send with Alejandria Fights Back! ¡La Lucha de Alejandria! ?
Leticia: I was part of a national team of artists and organizers who worked on this project, one of several that the Rise-Home Stories Project organized and that are connected to an effort to inform and empower BIPOC families around Housing Rights and Land Justice. As the writer, I drew on my own experience struggling against an attempted eviction of my long time home in the Mission. I was inspired by how my artivist sons have become involved in speaking up for their neighborhood and against displacement. I wanted to feature a child of Central American immigrants, and it was important to the team that we shape a narrative that believe young people can lead in the fight for justice. I also needed to make the story relevant for different communities across the country. The overall intent for all the Rise-Home projects is to share narratives that lift up the strength of community and underscore a vision of self-determination and agency.
ook's illustrator Robert Liu-Trujillo
BoldLatina: What do you believe our Latina/x community challenges are right now?
Leticia: There are so many urgent issues. During Covid, it has been hard not to get overwhelmed by how we are always one of the hardest hit and hardest working communities. Beyond all the crises we are navigating, I am mindful of how it continues to be so complicated to understand and articulate the complexity of our identities and experiences. In my research for the classes I teach at San Francisco State in Latina,Latino Studies, I work to center Indigenous and African experiences as I teach about the Central America and Latin America diaspora. The project of decolonization is life long.
BoldLatina:If you could change one thing about the world today that would make it better for women, especially women of color/Latina/x/Black Women, what would it be?
Leticia: If I could go back in time, before the Middle Passage, before Conquest, and redirect history, I would stop the ships before they ever left. I would want to weed out the hate and greed that has left us with so much healing work and intergenerational trauma. White supremacy and colonization are the poisonous roots of our existence––the wounds that lie within the creation of the Américas. I don't believe in magic solutions or silver bullets, but I do believe in the magic of spirit and narrative and community, all the things slavery and colonization tried to destroy.
BoldLatina: What, in your opinion, makes someone a BoldLatina?
Leticia: The title of my book of poetry, is Mucha Muchacha, Too Much Girl. It is a feminist answer to the song by Esquivel, but it also aims to own what I've been told my whole life: that I was too much, too loud, too bold. It took me a long time to realize that this was a gift, and an actual compliment, even when someone meant it as a critique. I see you out there, taking care of siblings and elders; I see you out there, like me, working multiple jobs; I see you out there breaking intergenerational cycles and choosing new paths. And also, it is healthy and necessary to ask for help, to take care of yourself. Be bold enough to be soft and still at times too (in between the times of being a bold boss).
BoldLatina: Any advice for other BoldLatinas out there you would like to share?
Leticia: There are no maps for us, so trust yourself to be the cartographer. Authorize yourself, and know, that when you are told you are too much, then you are doing something right.
---
Affiliate Disclosure: Each product and/or service we feature has been independently selected and reviewed by our editorial team. If you subscribe to our partners and/or make a purchase using the links included, we may earn commission.