Three years ago,  then 14-year-old Renata Flores Rivera surprised Latin America with her Quechua cover of Michael Jackson's "The Way You Make Me Feel". Although Peruvian singer Renata has been singing since she was four years old, it was her flexible, melodic voice and the ode to her roots that left an impression on Latin America and beyond. When she was 13-years-old, Renata competed in the "Voice Kids Peru," allowing her to showcase her talents. Renata was on her way to stardom since she began singing as a child- her voice is fluid'— strong but soothing. But unlike many singers trying to make it in hopes that a video of them singing a cover song goes viral, Renata did something incredibly different and admirable- she went back to basics. Performing in the middle of Inca ruins of the Peruvian Andes, Renata sang one of the best-known songs in her native tongue, Quechua.
Quechua is the dying language that belonged to several indigenous groups of people in South America. It was spoken 800 years ago and once the Spanish colonization of the Incas began, the language became more and more of a social stigma. People misinterpreted Quechua as the language of the "poor" and began to learn and use Spanish instead. Currently, there are about eight to twelve million speakers who speak Quechua primarily spoken Argentina, Bolivia, Chile, Colombia, Ecuador, and Peru and particularly spoken in the Andes. Unfortunately, the native language is considered endangered as less and fewer people are speaking it. However, Renata wants to be part of a movement that not only celebrates the indigenous language but also helps save it.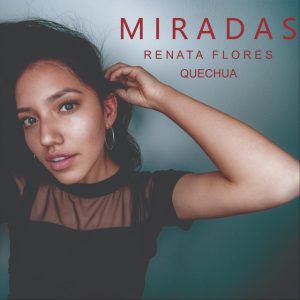 Renata was born in Peru and learned Quechua as a child, but lost her knowledge of the Quechua language as she was growing up. "Quechua is in my blood. Unfortunately, because it is no longer a primary language in Peru, parents and teachers don't prioritize it. I wasn't able to learn Quechua as a child, but recently, I have been learning it and practicing it more and more. My parents and grandparents speak to me in Quechua. I also take Quechua classes and when I sing in the native tongue, it brings me closers to my roots. I intend to keep learning and using my people's native language," Renata told BoldLatina.
While her mother and grandmother speak it, in her cover of "The Way You Make Me Feel" Renata is seen rockin' her chullo – a beanies style hat with ear flaps that the indigenous people wear. In Peru and other South American countries, the chullo has become the symbol for the fight to preserve indigenous culture in Peru and the symbol to fight against discrimination toward the indigenous people and traditions. Renata's style on and off the stage is a true form of activism. "I love to sing in Quechua. It's such a beautiful language. It's gentle and expressive. I also feel I have a responsibility to show that Quechua can be celebrated and practiced in today's culture and in these modern times. My music is for everyone. And I hope it inspires my listeners to learn and teach each other Quechua. I think it's important that we don't forget our identity, where we come from and our roots. Speaking Quechua, for me, is just one way of getting to know my true self a bit more."
While Renata has been able to sing in Quechua with a big help from her parents and grandparents, she plans to master the language and become fluent in it. Renata's talents are unquestionable, her style is unapologetic and her presence is powerful — even through a screen, you can feel the passion and purpose behind her singing. She has big dreams of success as a singer, but even bigger dreams of success as a contributor. She wants to impact the world with something long-lasting. She wants to teach. She wants to be a voice of reason. She wants to inspire and at the age of 17, she seems to have a clear understanding of what is important to her.
"I want to use my music to talk about the things that matter. I want to talk about racism, and discrimination and femicide.  My music gives me strength and courage. In some way, it encourages me to help change all that bad stuff that's been happening." 
Renata has put out a few songs in Quechua. Her most song, "Tijeras" which is a badass combination of Renata's powerful voice over a trap/ hip-hop beat. If you listen, you'll hear wind instruments and strings, (probably an ode to the Inca people's music and artistry) complimenting the beat. The video features fierce women, unapologetic self-awareness, and indigenous people dancing and playing music in the Andes of Peru. The video also features Renata (of course) in her hoop earrings and a dedicated look. The video is a clear representation of how we can embrace both the modern times and our roots.
---
---
"I try to do what I love and at the same time, inspire others to love, to respect, to educate and learn about our differences. I want my fans to understand the importance of knowing where you come from. If we knew how our ancestors, the Incas, respected our Earth, whom they called "Pachamama" we, too, would be treating her better. I believe we need to get to know ourselves again. Then, we can all finally walk in righteousness." says Renata.