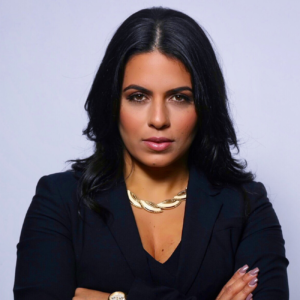 In this inaugural episode of our relaunched BoldLatina podcast series, Michelle Olvera, BoldLatina.com CEO/Founder and also a financial professional takes over the mic to have a conversation with Angelica Alam, who is a VP at JP Morgan Chase & Co and received her MBA from UVA Darden. Angelica is a first-generation college student – her parents are immigrants from the Dominican Republic. Currently in Singapore as an expat professional living her professional dreams – you can follow Angelica Alam's journey on IG or Twitter!   
Learn about Angelica's journey, her thoughts on being a 'First-Latina', wealth-building for Latinx, opportunities in corporate finance/banking and how you don't have to necessarily be a 'numbers' person. Our conversation with Angelica also explores the natural talents and soft skills Latinx have to leverage and how she turned to a path of education, mentors and organizations like Forté to help carve her path and create access to a network of supportive female diverse professionals.
We'd like to thank Angelica! And our sponsor Forté. For more information about Forté – head to ForteFoundation.org or read our recent thought piece titled, 'Being the First Latina, but No Longer The Only One'.