America Ferrera is the epitome of a humanist, feminist, and activist at heart. America Ferrera's TED Talk about Latinx identity and representation definitely covers her values gained through her journey.
Throughout her Hollywood entertainment career, she has given us deep characters that have resonated with us as Latinx and universally with all audiences. This time, America Ferrera steps onto another type of stage, to deliver a TED Talk that stirs the soul about Latina identity and media representation.
An award-winning actor of countless movies and television series, director/producer and activist America Ferrera has long been an American idol to many of us U.S. born Latinas. Ferrera made her early acting debut in 'Real Woman Have Curves',  'How the Garcia Girls Spent Their Summer' and 'The Sisterhood of the Traveling Pants' and countless other films. Her television career has included popular hits like 'Ugly Betty', and currently, Ferrera is starring in NBC comedy series 'Superstore'.
"My identity is my super power"  – America Ferrera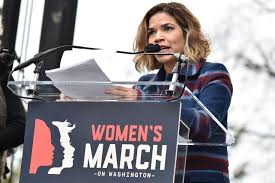 Ferrera was born in Los Angeles to Honduran parents who stressed the importance of education early. Wanting to be a performer at a young age, she did just that by participating and progressing in her acting craft in school and community theater while maintaining her studies. Ferrera graduated with a  USC (University of Southern California) Los Angeles.
Aside from her successful entertainment career, Ferrera has flexed her Hollywood influence and power in the political arena.  Ferrera has supported heavyweights like former senator and presidential candidate, Hillary Clinton.  Ferrera was visible at Clinton's 2016 presidential campaign by sharing the stage with other celebrities at the Democratic National Convention, one of great importance for Latinx representation.
Knowing the importance of getting Latinx to vote, Ferrera along with other Latinx celebrities like Will Valmerrama have helped in mobilizing Latinx in Voto Latino campaigns.  With the women's movement which has grown stronger and actionable in past years, Ferrera was opening speaker at major women's movement org's 'Women's March' 2017 in Washington D.C. On November 4, 2018,  Ferrera along with fellow Latina stars Zoe Saldana, Gina Rodriguez, Rosario Dawson and Eva Longoria made Florida their stomping ground and formed the 'Latina Stand Up' rally to hype up Latinos to vote.
---
With the call for more diversity and inclusion in every industry including the media and entertainment space, Ferrera set out on the TED stage to change hearts and minds.  In a tweet, she revealed how she felt about giving her first TED Talk.
What Latinas usually face in worlds not made for us – is others forcing us to conform to what is acceptable and professional. The constant positioning of ourselves to 'fit in' and get the job or promotions. In the process, the loss of one's own authentic self happens. America Ferrera makes the point that "Who we see thriving in the world teaches us how to see ourselves…" It's time for us to walk this world, as ourselves, unapologetically. The world must adjust for us.
"Hollywood needs to stop resisting what the world actually looks like", says America Ferrera.