First, we here at BoldLatina have been onto Dana Danelys De Los Santos otherwise known as 'Amara La Negra' since she was doing her thing in the urban Latino music space. Watch her 'Asi' music video or the booty shakin' 'Ayy'. Her love for the music business began as a child on Latino television hit shows like Sabado Gigante, at it for most of her 27 years, Amara is an estrella. She recently named Billboard's Artist on The Rise and recent multi-album record deal with Fast Life Entertainment Worldwide and BMG. Amara's music is set to drop later this year, watch for it!
Embed from Getty Images
We first catch Amara La Negra as a guest cast member on Boss Nails, a Lifetime reality show a few years back, and we were like 'Who is that mama? She is all kinds of goddess gorgeous!' With her signature afro, 'she stays true to her do' and yes, her green eyes are real, she's repping for proud Latinas everywhere – she tha bomb, hermana Afro-Latina we all have been waiting for. She brings the sazón, Okay?!
As a proud Latina, Afro-Latina at that, she does not shy away from her color, it's why she dubbed herself, 'La Negra'. She is clearly unapologetic and comfortable in her skin. However, it does seem like she had her share of opposition on why she as a bicultural woman can't be BOTH Black AND Latina.
"I am extremely proud of my brown skin, my color, of the way my hair curls…I am 100% Latina and proud of it." "Being an Afro-Latina, I embrace it."
Fans (including us) of Amara La Negra could not be more excited to see her as cast member on the season premiere of VH1's Love and Hip Hop: Miami, the reality show is on every Monday at 9 PM EST. No complaints, but finally, some Latino flavor up in a hip hop reality show.  We belong, know what we sayin'.
On recent episode of LHHMIAMI, Amara La Negra is seeking a music producer and has a conversation with fellow cast member 'young Hollywood', (his full name isn't worth noting) and his 'slick stupid-ass' comments prove that he is one outta touch Latino brotha. This episode touches on racism/colorism as the focus is how Amara looks – her dark skin and black afro, will need to 'go away', be erased essentially to meet potential mainstream demands – Amara will need to be 'commercialized' to be suitable for a mainstream listening audience. Is that right?!
"At the end of the day, the music industry is looking for cookie cutter poster childs." young Hollywood says.
Amara claps back, "not all Latinas look like JLO, or Sofia Vergara, or Shakira. So, where are the women who look like myself?"
At this point, our jaw dropped.
Twitter immediately comes to Amara's defense.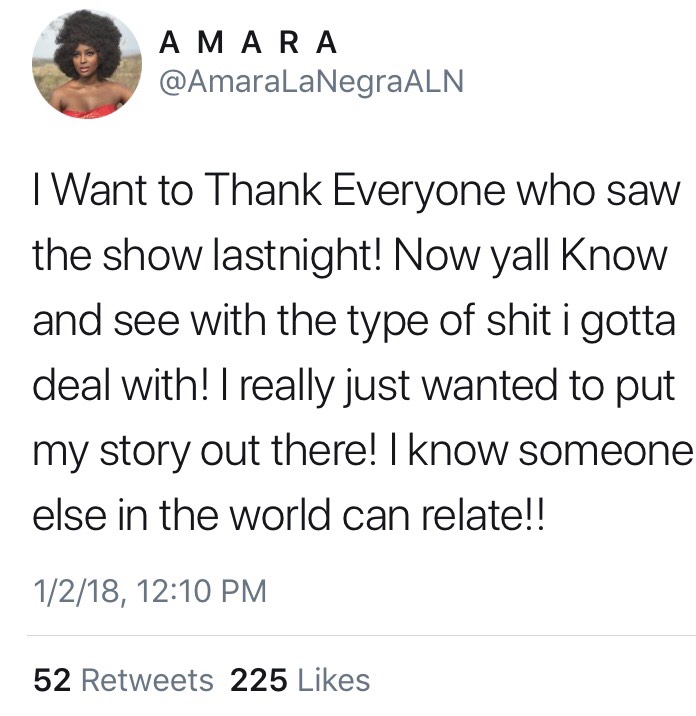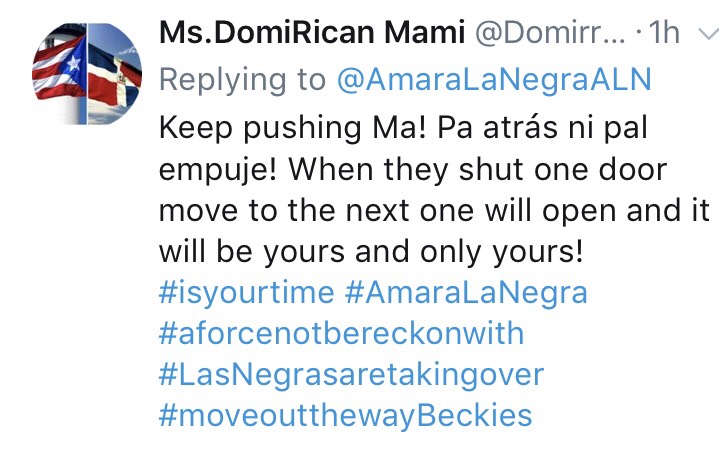 Young Hollywood suggests 'Beyonce', as a model of elegance. Mainstream won't want a 'Macy Gray.'
The Latin trap music producer, 'young Hollywood', a Latino himself, represents the worst in our community – his anti-black, racist/sexist and patronizing statements as well as mocking the Black culture, "this African thing", with fist in air, a symbol of the Black pride movement is an embarrassment to our community and to note, could be professional suicide.  This incident reminded us of that Argentine in Los Angeles, who attacked an elotero vendor by pushing his cart over. The 'white Latino' privilege is problematic, yo!
No, dude. At the end of every day, Amara La Negra handled herself with dignity, pride and is one hell of an 'elegant' lady. Unphased like a Q-U-E-E-N.
"Her look" is exactly reality and what we need. We look forward to Amara La Negra reppin' like we know she can.