2017 was the year of noise. As we tried to hold on to our sanity, some of us yelled screams of unity, resistance, protection, and rebellion. Those screams were meant to fight off and identify the oppressors, racists and sexual predators alike. With (what seems like) chaos taking over the nation, a sense of panic to do something came from everywhere. We debated, we cried, we protested, and we passionately protected each other. These Latinas created a space for Latinx to embrace our cultures, to remember to thrive, and to live unapologetically
by Nena Lezama
Cardi B
The Trap Selena. The half Trinidadian, half Dominican rapper made her imprint in music, culture, and society this year. Not only did she dominate the charts by beating out Taylor Swift for the #1 Billboard spot, but she also became the first female rapper to top the charts since Lauryn Hill's 1998 "Doo Wop". Aside from her music career, her personal life also flourished. She got engaged, bought herself a few cars, and wore an astonishing Cinderella gown to Rihanna's Diamond Ball. Cinderella, indeed and all while still keeping it hood. If you were ever a brown girl with an attitude, too much of an attitude for White folks, you were rooting for Cardi. She was big sis who reminded us of ourselves. So when she won, we won because there was a girl from the gutter winning it all!
Cardi has been vocal about her past as a stripper and as a domestic abuse survivor. She has also called out the Trump administration for being racist, has blasted the music industry for instigating drama amongst female rappers, and despite cashflow, she has remained the girl from The Bronx. As little girls adjusting to a new culture, we were told that to succeed, we must mind our manners but Cardi didn't conform to others' expectations just to keep them comfortable. So when Bodak Yellow came out, it became our anthem because even from hood, we too, can make money moves.
Gloria Calderon Kellett
The writer of our lives. The sitcom producer writer made sure to create a multi-cultural romantic comedy script that would make its way into the living rooms of a diverse audience. Kellet is crediting her success in her most notable work, One Day At A Time, to her real life inspiration- her roots. Born to Cuban parents and raised in Portland, Kellet has created (almost poetically) a comedy that beautifully embraces what it is like to be Latinx in America. The show is about a Cuban American single mother and veteran raising two teenage kids with the help of her mother, played by the legendary Rita Moreno (who most recently slammed Trump for his lack of initiative in helping Puerto Rico post hurricane). The show's setting rings true to many of us who were raised by single mothers as our abuelita's presence reassured us we were loved, cared for, fed, and nurtured just to fill in the gaps left unfulfilled by POC struggles. One Day At A Time is like a personal narrative mirroring a lot of our childhoods. Growing up, I know a lot of us tried to maintain Spanish with abuelita and English with mamá just so she can learn the language. While the sitcom's leading lady is fluent in both languages, the dialogue amongst the family consists of both Spanish and English- reminding us that being bi-cultural is not about sacrificing one for the other, but about embracing both cultures- Latinx and American.
Ilia Calderón
The Black immigrant on enemy territory. She became the first Afro-Latina to anchor for a major news network in the United States. The Colombian born journalist became a household name when she took a Univision seat next to renowned journalist Jorge Ramos but what happened shortly after joining Univision is when we saw her bold, strong and fearless. In one of her first interviews with the major network, Ilía went head to head with a white supremacist and KKK leader. Making history by being the first Black person to be accepted on KKK territory, Ilia held an interview with a highest-ranking member of the organization. During the interview, the KKK leader tells Ilia "whatever you want to call yourself, you're a mongrel to me" to which Ilia responded, "I am a Black person, and I am an immigrant." In those moments, and in those words, Ilia helped us take back our power from any person who may want to define us as anything less than great. There was fortitude in her response and it gave us all courage in such a turbulent time.
Carmen Yulin Cruz
The nasty woman. She became known as the woman who publicly put Trump in his place. Puerto Rico's San Juan Mayor, Carmen Yulin Cruz, wasted no time pointing out how the Trump Administration failed Puerto Rico and risked the lives of hundreds and thousands with slow recovery efforts. Following the category 4 storm's strike, Cruz was seen in the waters aiding Puerto Ricans. Shortly after, she declared a war with words on Trump for his lack of assistance in recovery efforts. While the mayor and Trump fired verbal shots at each other via Twitter, Cruz won the war when she wore a "nasty" shirt in response to Trump's accusation that the Democratic Party told Cruz to be "nasty" to him. San Juan's Mayor flipped the tables on Trump by using his own words to make her point by saying "what's really nasty, is that anyone would turn their back on the Puerto Rican people."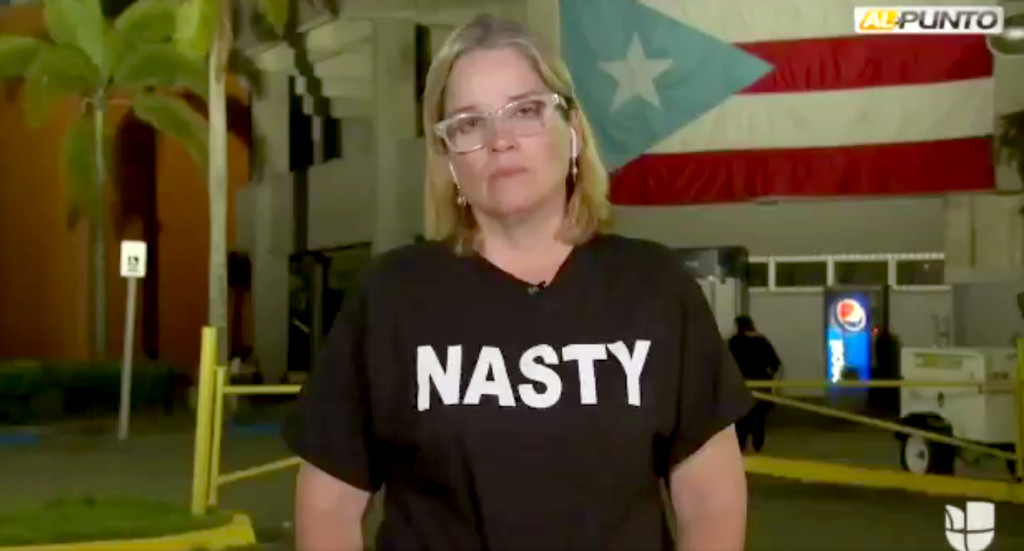 The Unapologetically Brown Series
The Brown girl's bat signal. The Unapologetically Brown Series was created by Salvadorian and NYC girl, Johanna Toruno. Her movement was founded on the foundation of healing and acceptance just as she was trying to cope with her immigration to US. Years later, her movement would still spark the same notion of acceptance and healing in territory that often wants to overlook us. Unapologetically Brown Series posters consist of empowering poetry, images of Selena and Aaliyah (amongst others), and quotes by Kendrick Lamar and Maya Angelou (to name a couple) plastered all over NYC. By promoting words of love, sisterhood, acceptance, and courage for the Black and Brown girls, Johanna's work creates a space where we can celebrate Black and Brown. Ultimately, The Unapologetically Brown series inspires self-love for the melanin filled skin girls, preventing those who don't know us from defining us.
Yesika Salgado
The Fat Fly Brown Girl. She is a poet (with her own published work, Corazón) who speaks of her Salvadorian roots, her LA neighborhood, body image, culture, and everything that makes a Brown Girl all that she is. In her latest work and Ted Talk "Advice from a Fat Fly Brown Girl", Yesika tackles the complexities that come with being a BBW Latina. Often times, we see images of women who look nothing like us defining the standards of beauty. Often times, we grow up believing that curvy is fat unless the media says thick is in again. Often times, we forget to love every inch of ourselves because nothing in American culture told us to. Ken never had a brown skinned girlfriend when we were young. In her vulnerable piece, Yesika confronts herself by admitting to an audience about how she catfished a man online into believing she looked like someone else. In her Ted Talk, Yesika examines the power of self-love, and that at the root of self-love is courage. Courage to embrace yourself despite, and after not seeing yourself for so long and then finally, looking at yourself- the good and the ugly- and still falling in love with the image in the mirror. Yesika tells us "leave yourself love notes" so when you feel invincible, you know you're not.